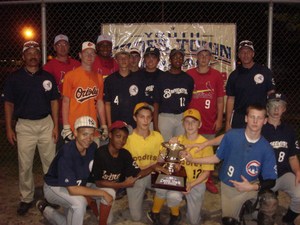 The Homewood 8th Grade All Star's will take on the Flossmoor 8th Grade All Star's in a 3 game series which will be played on Friday June 8, Saturday June 9th and Sunday June 10th in the Second Annual Cross Town Classic hosted by the Friends of H-F Baseball, Inc. and the Southland Vikings Baseball Club www.southlandvikings.com. Last years series was won by Flossmoor 3 games to none.
The Friends of H-F Baseball, Inc is in its 22nd year of existence supports baseball across both communities and at Homewood-Flossmoor High School where it built the Field of Dreams Varsity Field. It also has a baseball club the Southland Vikings who are members of the Midwest Collegiate League and are excited about giving the stars of tomorrow a backdrop to showcase their talents.

The game will be played at Homewood-Flossmoor High School's Varsity Field 900 Kedzie Avenue in Flossmoor, IL. The start times for the games will be 7:00PM. The teams will be playing for the Cross Town Classic Trophy which will go to the winner of each year's event. Tickets are on sale now through both respective baseball organizations. Tickets are $5.00 dollars each and children under 12 accompany a paid adult are admitted for free.
Ticket revenue is being shared with each with respective Homewood and Flossmoor baseball organizations. Come out and support our youth players!