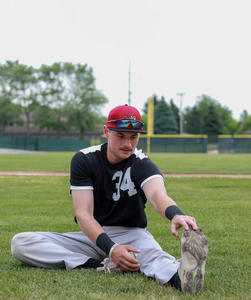 Crown Point, Ind. – August 6, 2022 – Tonight was about having fun on a gorgeous night at the ballpark.
That was the mentality for both the Southland Vikings (26-19-2) and the Lake County Corn Dogs (35-11) as the two squared off to close out the 2022 regular season slate. The Corn Dogs took the matchup, winning by a final of 4-2.
Both sides traded zeros for the first couple of frames before Lake County struck first with a two-spot in the second inning. The Corn Dogs would proceed to load the bases but Max Everaert was able to get out of the jam with just the two runs allowed.
Southland was able to grab a run back in the fourth inning on a Nick Fies fielder's choice, scoring Jason Krol from third base. Fies was responsible for driving in both Viking runs Saturday, as he would later hit a no-doubt home run to start the seventh inning.
"He was able to get something middle-in," Vikings coach Scott Nowakowski said. "That's usually his bread and butter. He's able to get [the ball] in the air and put some backspin on the ball, and it carried out [because of the] air."
The key for the Vikings was the pitching staff which kept them in the game. Southland sent four position players to the mound and they combined to give up just two runs to one of the league's top offenses.
Left-hander George Bilecki was the most effective of the four, going two innings and allowing just one hit while picking up three strikeouts.
"I just kind of was trying to do my job," Bilecki said. "[Trying to] get guys out and try and get the offensive going."
In addition to his great performance on the mound, Bilecki also played both positions on the left side of the infield.
"That's the first time I've ever done that in my baseball career," Bilecki said. "It was pretty crazy and was a change of scenery for real. It looked awesome and I got to make a play at shortstop."
The Vikings will enjoy a day off before a 7:10 p.m. date on Monday with the Northwest Indiana Oilmen in the win-or-go-home semifinal round of the league playoffs. Despite the game taking place at Oil City Stadium, Southland will be the home team and will get the last at-bats in the game. Fans will be able to listen to the game live on the Vikings Radio Network with Cavan Malayter on the call.
| | | | | | | | | | | | |
| --- | --- | --- | --- | --- | --- | --- | --- | --- | --- | --- | --- |
| 8/6/22 | 1 | 2 | 3 | 4 | 5 | 6 | 7 | R | H | E | L |
| Vikings | 0 | 0 | 0 | 1 | 0 | 0 | 1 | 2 | 5 | 1 | 5 |
| Corn Dogs | 0 | 2 | 0 | 0 | 1 | 1 | X | 4 | 4 | 1 | 7 |
Photo Credit: Isaiah Santiago