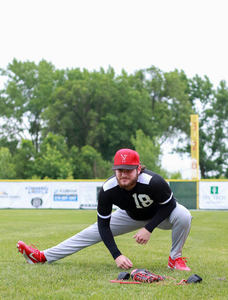 Chicago, Ill. – August 5, 2022 – The key number for the Vikings on Friday night was seven.
That's the number of errors the Southland Vikings (26-18-2) committed in their 13-6 loss to the Chicago American Giants (8-35-1). That is the most errors Southland has committed in a single game this summer.
"Just uncharacteristic from our defense," Vikings Manager Scott Nowakowski said. "That's all. Players trying to do too much here and there and [we had] a couple throwing errors where we should have held onto the ball."
Despite the miscues defensively, the Vikings put themselves in a position to stage a comeback in the middle innings.
After falling behind 10-1, Southland saw their first three batters reach base to begin the visitor's half of the fourth. Viking newcomer Duane Doss worked a walk with the bases loaded for his first RBI as a member of the 'Vikes, he was followed up by Zach Costello. Costello, who batted for himself Friday night, ripped a bases-clearing double to center field.
The double was the first at-bat the left-handed pitcher had taken all summer long, and it couldn't have come at a better time for Southland.
"That felt amazing," Costello said. "To pick up a bat and still know how to swing [after a year of not doing so], so…getting that double made my whole day."
Costello would later come across to score in the fifth inning. But, that 10-6 score going into the home half of the fourth was the closest Southland got to tying the game. As the American Giants would later put up a three spot in the sixth, to secure the victory.
The Vikings have one game remaining in the 2022 regular season before it's playoff time. They will travel to Crown Point to take on the Northern League regular-season champion Lake County Corn Dogs at 7 p.m. Fans who cannot attend the ballgame can watch the game on Facebook Live or listen along on the Vikings Radio Network.
| | | | | | | | | | | | |
| --- | --- | --- | --- | --- | --- | --- | --- | --- | --- | --- | --- |
| 8/5/22 | 1 | 2 | 3 | 4 | 5 | 6 | 7 | R | H | E | L |
| Vikings | 0 | 1 | 0 | 5 | 0 | 0 | 0 | 6 | 6 | 7 | 7 |
| Giants | 7 | 0 | 3 | 0 | 0 | 3 | X | 13 | 9 | 3 | 6 |
Photo Credit: Isaiah Santiago