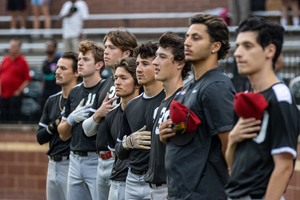 Whiting, Ind. – August 8, 2022 – When you're out-pitched by your opponent, you have to just tip your cap to them.
As the Southland Vikings (26-17-2) dropped the ninth and final regular season meeting against the Northwest Indiana Oilmen (23-21) by a final of 5-0. The Wednesday evening loss was just the fourth time the Vikings were shut out this season, but it was to no fault of the pitching staff.
"They [pitching staff] both did really well," Vikings Manager Scott Nowakowski said. "They both threw strikes. They made the kids on the Oilmen put the ball in play and for the most part, we made the plays. We had the one inning where we gave him about six outs…but, other than that our pitchers did really well."
The inning in reference was the bottom of the seventh. With multiple outs already recorded, the Vikings forced the Oilmen into two separate rundowns and were unable to record an out. A key extra-base hit for Northwest Indiana saw them expand their lead and propel them to victory.
Coming into the inning, the Vikings were lockdown defensively and pitching well and it was only a matter of time before one of them couldn't carry the quiet Southland offense. But, the biggest takeaway from Wednesday's game was that the Viking pitching staff ate innings and was effective. That can be credited to a quality start from right-hander Nick Noles.
Noles went six innings on the bump, allowing two runs (both earned), while only walking two Oilmen hitters. Noles was this effective without receiving run support or recording a strikeout. However, Noles' effectiveness was highlighted by his ability to sit down 14 consecutive Northwest Indiana hitters, keeping his squad in the game.
"I feel like I did it [my work] pretty efficiently," Noles said. "Wish I could have pounded the zone a little better in a couple of innings. Wish I could have gotten some K's too, but it was a pretty good night."
The Vikings will look to bounce back as they return to Dowling Park for their final home game of the season at the facility. They will play host to the Joliet Generals in a 5 p.m. showdown between the two sides. Fans who cannot attend will be able to follow along live on Facebook Live and the Vikings Radio Network.
| | | | | | | | | | | | | | |
| --- | --- | --- | --- | --- | --- | --- | --- | --- | --- | --- | --- | --- | --- |
| 8/3/22 | 1 | 2 | 3 | 4 | 5 | 6 | 7 | 8 | 9 | R | H | E | L |
| Vikings | 0 | 0 | 0 | 0 | 0 | 0 | 0 | 0 | 0 | 0 | 5 | 1 | 9 |
| Oilmen | 1 | 0 | 0 | 0 | 1 | 0 | 3 | 1 | X | 6 | 8 | 0 | 5 |
Photo Credit: Ethan Levy