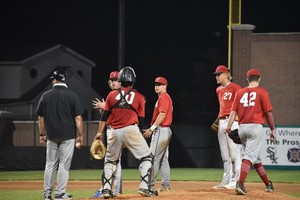 Hammond, Ind. - August 12, 2021 - The Southland Vikings needing two straight wins to advance to the MCL Championship, had their hands full on Thursday night. They faced the NWI Oilmen for game two and it was all Oilmen from the start as the Vikings were eliminated from the playoffs and their season ended on a 12-4 loss.
The Oilmen started the scoring party early in the first inning. Four hits including a grand slam had Southland down 4-0 early.
The Vikings answered in the bottom of the first. Lead-off single from Darrius Little (Morton / Chicago, Ill.) and a two run home run off the bat of Patrick Doran (North Carolina Central / Evergreen Park, Ill.) chipped the deficit to 4-2.
The Oilmen kept their foot on the gas with more runs. Scoring four runs in the second inning and two in the third jumping to a 10-2 lead after three innings.
The Vikings offense keeping the game alive in the sixth inning. Three singles from Jon Crowel (Flagler / Highland, Ind.) Logan Anderson (South Suburban / Frankfort, Ill.) and Jason Krol (Lewis / Chicago, Ill.) loaded the bases with one out. Dylan Engel (Illinois Wesleyan / Chicago, Ill.) chopped an RBI infield single to the shortstop, 10-3.
In the seventh, the Oilmen responded with a run of their own, 11-3 but the Vikings also responded in the bottom of the seventh. Back to back one out singles from Nick McAllister (Erskine / Homewood, Ill.) and Doran. McAllister scored on the throw of a dropped third strike, 11-4.
One more run for the Oilmen in the eighth inning, 12-4 and that would be all from both teams. The Vikings were shutout the rest of the game and fell to the Oilmen ending their season and championship hopes.
"It was a fun season for us," Vikings Manager Rocco Mossuto said. "Obviously not the end result we wanted but we had a good time and the players got some good reps in this season to help them for the upcoming college season."
The Vikings finished the season at 20-22 (including playoffs), made the playoffs after missing them in 2020, climbed the standings to take fourth place in the month of July, and featured multiple MCL Player of the Week and MCL Pitcher of the Week.