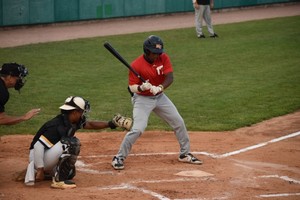 Hammond, Ind. - August 11, 2021 - The Southland Vikings started their road to the MCL Championship on Wednesday night in game one of the semi-finals against the #1 seed NWI Oilmen. In a game where Vikings controlled throughout, late errors and walks led to a Oilmen comeback as the Vikings fell 5-4 in 10 innings.
Southland started the offense early in the first inning. One out single from Jon Crowel (Flagler / Highland, Ind.) and Logan Anderson (South Suburban / Frankfort, Ill.) lined an RBI double off the brick wall in left field giving the Vikings an early 1-0 lead.
The Oilmen answered with their own run in the bottom of the second, tying the game 1-1.
Consecutive scoreless innings for both teams, the Vikings regained the lead in the fifth inning. Nick McAllister (Erskine / Homewood, Ill.) reached on base via error and advanced to third on a wild pitch with one out. Darrius Little (Morton / Chicago, Ill.) grounded out to the shortstop but McAllister advanced on the throw and scored, 2-1.
Just like the first time the Vikings scored, the Oilmen answered with their own run tying it in the fifth inning, 2-2.
The Vikings kept the momentum in the sixth inning. Tommy Carlson (Moraine Valley / Peotone, Ill.) worked a two out walk and Kyel Alexander (St. Ambrose / Burbank, Ill.) lined a single to left field advancing Carlson to third. Due to a balk from the pitcher, Carlson advanced home and gave the Vikings a 3-2 lead.
An issuance for the Vikings was added in the seventh inning. Two out single from Patrick Doran (North Carolina Central / Evergreen Park, Ill.), consecutive walks by Anderson and Joe Rycerz (St. Xavier / Schererville, Ind.) loaded the bases. Ethan Imlach (Purdue Northwest / Mokena, Ill.) chopped a ball to the third baseman but a misplay on the ball allowed Doran to score and Imlach to be safe at first, 4-2.
Needing three outs to win game one, the Vikings defense fumbled and allowed the Oilmen to comeback. The Oilmen scored two runs on two errors and two walks, tying the game at 4-4.
In the bottom of the tenth, the Oilmen walked it off after a single to left field, giving the Oilmen game one with the score of 5-4.
"We just need to catch the baseball," Vikings Manger Rocco Mossuto said. "We outplayed the Oilmen the entire game and they tied the game without recording a hit and you just can't have that. Tomorrow's a new day and we have one of our best pitchers on the mound but that was a bad way to lose tonight's game."
The Vikings will face the Oilmen for game two at approximately 7:40 p.m. at Oil City Stadium located in Whiting, Ind. The broadcast will be available on JED-TV and 1230 AM. Brandon Vickrey and Leo Staudcaher will have the call for the game.