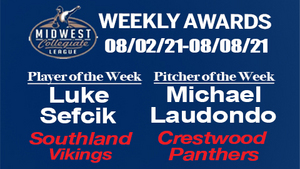 Hammond, Ind. - August 9, 2021 - Luke Sefcik (Central Michigan / Palos Heights, Ill.) boasted a .571 average and .625 on-base percentage over four games this week, accruing seven RBIs and two triples. His week was highlighted by a four-hit game against the Minutemen on Monday, Aug. 2. Sefcik also had three multi-RBI games this week. He finished the season with a .333 batting average and 22 RBIs. Sefick becomes the third player overall and second position player for the Vikings to earn a weekly MCL honor.
The MCL Playoffs will begin on Tuesday with all postseason games taking place at Oil City Stadium. The Panthers and Generals will match up at 4:10 p.m. in Game 1 of a best-of-three semifinal series before the Oilmen and Vikings do the same at approximately 7:40 p.m. Tickets will be available at the stadium box office. The Panthers/Generals game will air on Facebook Live on the Crestwood Panthers page and the Oilmen/Vikings game will air on AM 1230 WJOB and JED-TV.
The MCL will announce its major award winners and all-league team next week.
2021 MCL Player of the Week Award Winners
June 7 – Tyler Schultz, Crestwood
June 14 – Tre' Hondras, CAG
June 21 – Zamaurion Hatcher, NWI
June 28 – Christian Seegers, Joliet
July 5 – Colin Bruce, NWI
July 12 – Josh Williams, CAG (unanimous)
July 19 – Kevin McCormick, NWI (unanimous)
July 26 – Doug Loden, Minutemen
Aug. 2 – Chris McDevitt, Southland
Aug. 9 – Luke Sefcik, Southland
2021 MCL Pitcher of the Week Award Winners
June 7 – Benny Guevara, Crestwood
June 14 – Jake Paymaster, Southland
June 21 – Nick Vollmert, Joliet
June 28 – Jack Guzek, NWI
July 5 – Jake Paymaster, Southland
July 12 – Nick Miketinac, NWI
July 19 – Matt Lelito, NWI
July 26 – Matt Dinkel, Joliet
Aug. 2 – Jake Paymaster, Southland
Aug. 9 – Michael Laudondo, Crestwood