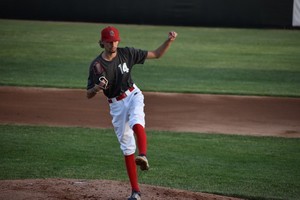 Hammond, Ind. - August 5, 2021 - The Southland Vikings (20-19) needed to win one of their four remaining games to clinch a spot in next Tuesday's playoffs. Southland stayed red hot on Thursday keeping their big offense moving as they defeated the Giants 10-6 in seven innings and clinched a playoff berth.
The Giants came out in the first inning with a home run taking an early 1-0 lead.
Southland responded right after with two runs. Lead-off walk from Darrius Little (Morton / Chicago, Ill.) and a Chris McDevitt (Indiana State / Chicago, Ill.) single put runners on first and second no outs. Luke Sefcik (Central Michigan / Palos Heights, Ill.) continued his hot season with an RBI single to left field tying the game, 1-1. Logan Anderson (South Suburban / Frankfort, Ill.) followed an RBI sac-fly to left field, 2-1.
The Vikings continued in the second inning. Little lined a one out single to third base, due to the errant throw Little advanced to second. McDevitt roped a 0-2 pitch off the pitcher's glove scoring Little for an RBI single, 3-1.
The Giants came right back with an RBI double and a home run, tying the game at 3-3 in the third inning.
Southland answered back once more in the bottom third. Anderson reached on base via error and advanced to second with one out. Jon Crowel (Flagler / Highland, Ind.) lined a single to right field advancing Anderson to third. Shawn Rigsby (St. Ambrose / Myrtle Creek, Ore.) was clutch and lined a two RBI triple to right center, retaking a 5-3 lead. Rigsby later scored on a wild pitch, 6-3.
"My first at-bat I swung at a bad pitch, just trying to find my pitch and the first pitch of that triple was in my zone," Rigsby said. "It's all about getting the pitches I like, I'm not going to waste at-bats by swinging at bad pitches and striking out. Vikings are hot right now."
The Giants added one run in the fourth, 6-4 but the Vikings broke open the game with a four run fifth inning.
Crowel lined a one out single to left field and Rigsby followed with a walk. Tommy Carlson (Moraine Valley / Peotone, Ill.) poked a two RBI single past the shortstop scoring Crowel and Rigsby, 8-4. Little added another hit to his total, a single to center field advancing Carlson to third. McDevitt lined a sac-fly to center field, scoring Carlson, 9-4. Sefcik drove an RBI triple down the right field line giving the Vikings their biggest lead of the game, 10-4.
"Kyle Hallberg with his batting practice for us once again, just having fun out there, seeing the ball well, and being confident at the plate," McDevitt said. "We're aggressive at the plate, it all starts with a new coach. I think Kyle, Rocco, and Ryan have helped us gel together very well."
The Giants scored two runs in the seventh but that would be all as the Vikings went on to win 10-6 in seven innings and clinch a playoff berth.
The Vikings next game is Friday, August 6 against the Chicago American Giants. The game is at 7:05 p.m. and will take place at Gouwens Park located in South Holland, Ill.