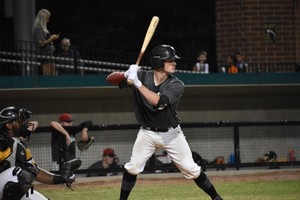 Hammond, Ind. - August 2, 2021 - The Southland Vikings (18-19) entering the final week of the regular season in the MCL in fourth place, the final spot in the playoffs. Southland has been red hot since the month of July and continued that in the first game of August. Early offense set the tone as the Vikings led the whole game and defeated the MCL Minutemen (8-26) 6-2.
Southland came out of the gates in the first two innings. In the first, lead-off hit by pitch for Darrius Little (Morton / Chicago, Ill.). Luke Sefcik (Central Michigan / Palos Heights, Ill.) drove an RBI triple to right center, 1-0. The next batter Chris McDevitt (Indiana State / Chicago, Ill.) recorded an RBI groundout to first, 2-0.
In the second inning, one out single from Kyel Alexander (St. Ambrose / Burbank, Ill.), Alexander stole second and scored on an errant throw to first base on a ground ball, 3-0.
The Minutemen scored their first run of the game in the third inning, 3-1 but the Vikings answered in the fifth inning. Consecutive singles from Sefcik and McDevitt and a Jon Crowel (Flagler / Highland, Ind.) walk loaded the bases with zero outs. Patrick Doran (North Carolina Central / Evergreen Park, Ill.) lined a two RBI single past the first basemen, 5-1.
The offense continued in the sixth inning, a lead-off walk for Alexander. Alexander stole second but an RBI single from Sefcik scored Alexander, 6-1.
"I used Jason Krols pro hitter today, I loosened up my hands because I was gripping the bat too tight, so just getting my hands through," Sefcik said. "We're just playing good baseball, we don't take ourselves too seriously, guys are doing their jobs and getting on."
The Minutemen added one run in the seventh inning, 6-2, but that would be all for both teams as the Vikings cruised to a 6-2 win. The Vikings now stand two games ahead of the Giants for fourth place and one game behind the Panthers for third place.
"It's interesting that we're 7-0 in Kyle Hallbergs batting practice," Vikings Manager Rocco Mossuto said. "Overall great win by the team today, we're clicking at the right time and we all feel good about this team."
The Vikings next game is Wednesday, August 4 against the MCL Minutemen. The game will start at 5:05 p.m. and takes place at Dowling Park in Hammond, Ind. The game will be broadcasted on the Southland Vikings Facebook Page via Facebook Live. Jack Theil will have the call for the game.