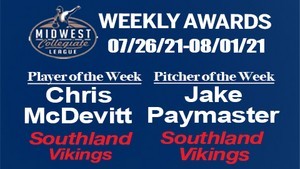 Chicago, Ill. – Aug. 2, 2021 – The Midwest Collegiate League announced its weekly award winners on Monday as the Southland Vikings swept this week's honors. Chris McDevitt (Indiana State / Chicago, Ill.) was named the MCL Player of the Week, while Jake Paymaster (Triton College / New Lenox, Ill.) took home MCL Pitcher of the Week laurels.
Paymaster edged Crestwood's Michael Laudondo and NWI's Jack Guzek in the tightest MCL Pitcher of the Week vote this season. The lefty tossed a seven-inning complete game and earned the victory in Thursday's triumph over the Panthers. Paymaster yielded just one run on three hits and three walks while striking out nine and was perfect through the game's first four frames.
This marks the third time this season Paymaster has earned MCL Pitcher of the Week recognition, while McDevitt becomes the first Viking position player to achieve a weekly honor in 2021.
McDevitt batted .555 over five games this week, ripping four doubles and driving in 13 runs while scoring on five occasions. He reached base at a .666 clip over the five games, had three or more RBIs in three different contests and posted three multi-hit outputs.
The MCL will announce its final weekly award winners on Monday, Aug. 9. The MCL Playoffs will begin on Tuesday, Aug. 10 with the league's top four teams battling for the 2021 crown at Oil City Stadium.
2021 MCL Player of the Week Award Winners
June 7 – Tyler Schultz, Crestwood
June 14 – Tre' Hondras, CAG
June 21 – Zamaurion Hatcher, NWI
June 28 – Christian Seegers, Joliet
July 5 – Colin Bruce, NWI
July 12 – Josh Williams, CAG (unanimous)
July 19 – Kevin McCormick, NWI (unanimous)
July 26 – Doug Loden, Minutemen
Aug. 2 – Chris McDevitt, Southland
2021 MCL Pitcher of the Week Award Winners
June 7 – Benny Guevara, Crestwood
June 14 – Jake Paymaster, Southland
June 21 – Nick Vollmert, Joliet
June 28 – Jack Guzek, NWI
July 5 – Jake Paymaster, Southland
July 12 – Nick Miketinac, NWI
July 19 – Matt Lelito, NWI
July 26 – Matt Dinkel, Joliet
Aug. 2 – Jake Paymaster, Southland