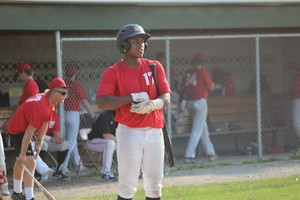 Hammond, Ind. - July 24, 2021 - The Southland Vikings (13-18) coming off a two game win streak faced the fourth place Chicago American Giants (14-14) on Saturday. A close game in the beginning but ttwo out errors came back to bite the Vikings as Southland fell 8-2 in seven innings.
The Vikings started the scoring in the first inning. Joe Rycerz (St. Xavier / Schererville, Ind.) lined a one out double past the left fielder. Consecutive walks by Alex Gassbaro (Purdue Northwest / New Lenox, Ill.) and Lucas Spence (Uncommitted / Beecher, Ill.) loaded the bases. Rycerz scored on a wild pitch, 1-0.
The Giants answered in the first and second inning with their own runs. Scoring three in the first and one in the second, gaining a 4-1 lead in the second inning.
Southland chipped at the deficit in the third inning. Two out single by Gassbarro and a stolen base put him on second with two outs. Spence lined an RBI single up the middle, 4-2.
It was all Giants from there as they scored four runs in the fourth inning, making it a 8-2 game. Shutting down the Southland offense and defeating the Vikings 8-2 in seven innings as the defense for the Vikings committed three two out errors that were responsible for six unearned runs.
The Vikings next game is Wednesday, July 28 against the MCL Minutemen. They will finish the suspended game 6-6 in the top of the 11th from July 15 and then play the originally scheduled game after the first game for seven innings. The game will be broadcasted on the Southland Vikings Facebook Page via Facebook Live. Vince Martarano will have the call for the game.