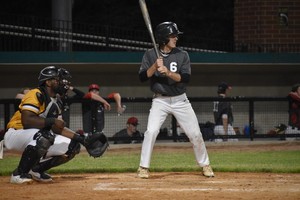 Hammond, Ind. - July 19, 2021 - The last game before the All-Star break, the Southland Vikings (11-17) traveled to face the Joliet Generals (14-9) on Monday. The Vikings trailed throughout the game but chipped at the deficit late in the game and fell to the Generals 4-3 in seven innings.
The Generals started the game hot on offense with four runs in two innings, two in the first and two in the second to take an early 4-0 lead through four innings.
In the fifth the Vikings started to comeback. Connective walks from Kyel Alexander (St. Ambrose / Burbank, Ill.) and Caleb Evans (Jackson State / Hawthorn Woods, Ill.) started the inning. Alexander stole second base and advanced to third on an errant throw from the catcher. The pitcher attempted a pick off move to Evans at first but the throw was high, scoring Alexander and advancing Evans to second, 4-1. Consecutive two out walks from Jon Crowel (Flagler / Highland, Ind.) and Luke Sefcik (Central Michigan / Palos Heights, Ill.) loaded the bases. Joe Selby (Triton / Romeoville, Ill.) lined an RBI single up the middle, 4-2. Tommy Carlson (Moraine Valley / Peotone, Ill.) worked a two out four pitch walk, 4-3.
Zach Costello (St. Xavier / Seneca, Ill.) came in for relief in the fifth inning and kept the Vikings in the game. Costello held the Generals scoreless in the fifth and sixth innings, keeping it a 4-3 game heading into the last inning. Costello's final line was two innings, two hits, zero runs, and two strikeouts.
The Vikings with three outs to work with in the seventh, couldn't get a runner past first base as the Vikings fell to the Generals 4-3.
"I don't know how many one run losses a team can have," Vikings Manger Rocco Mossuto said. "I believe that's the sixth one of the year and it's all about execution and winning those games. We're always close but we need to start winning these types of games."
The Vikings next game is Wednesday, July 21 against the Crestwood Panthers. First pitch is slated for 5:05 p.m. and the game will take place at Dowling Park in Hammond, Ind. The game will be broadcasted on the Southland Vikings Facebook Page via Facebook Live. Jack Theil and Jon Zaghloul will have the call for the game.