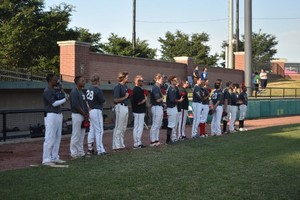 Hammond, Ind. - July 14, 2021 - The Southland Vikings (10-16) coming off a win on Tuesday looked to repeat that in Wednesday's matchup with the Chicago American Giants (13-10). It was all the Giants from the start as the Vikings failed to get any momentum from the offense and pitching resulting in a 14-3 loss.
The Giants scored three quick runs in the first three innings, jumping to an early 3-0 lead.
The Vikings responded in the bottom of the third with two runs. Shawn Rigsby (St. Ambrose / Myrtle Creek, Ore.) drew his 21 walk of the season to lead off the inning. Rigsby advanced to second on a passed ball and Nick McAllister (Eskrine / Homewood, Ill.) lined an RBI double down the left field line scoring Rigsby, 3-1. McAllister advanced to third on a one out groundout and scored on a wild pitch, 3-2.
The game was broken open by the Giants in the fifth, sixth, and seventh inning. The Giants scored one in the fifth but five runs each in the sixth and seventh inning jumping to a 14-2 lead after the top of the seventh.
The Vikings, needing three runs to extend the game, only scored one run in the bottom of the seventh. One out double from Rigsby, Rigsby scored on a groundout to second due to the errant throw from the second basemen, 14-3 but that would be all as the 10 run rule effect came into the action and the Vikings lost 14-3 in seven innings.
"Just a game for us to forget honestly," Vikings Manager Rocco Mossuto. "We didn't play well anywhere and you hope we can come out tomorrow, forget what happened tonight and play better baseball in tomorrow's game."
The Vikings next game is Thursday, July 15 against the MCL Minutemen. First pitch is slated for 5:05 p.m. and the game will be at Dowling Park located in Hammond, Ind. The game will be broadcasted on Facebook Live and you can view it on the Southland Vikings Facebook Page. Jack Theil and Vince Martarano will have the call for the game.