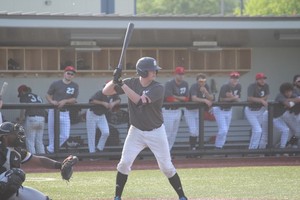 Hammond, Ind. - July 9, 2021 - The Southland Vikings (9-15) faced off against the MCL Minutemen (5-14) for the second time this season and will face them three of the next four games. It was a home run frenzy for the Minutemen as they belted six home runs and controlled the Vikings throughout the day, having the Vikings lose 16-4 in seven innings.
The Minutemen scored nine runs in the first inning after hitting four home runs as well, 9-0.
The Vikings responded with one run in the second inning with a home run from Alex Gasbarro (Purdue Northwest / New Lenox, Ill.) his first home run of the season, 9-1.
The Minutemen added to their nine run total with three in the second. Another home run helped expand their lead to 12-1.
Southland scored one run in the third, Lucas Spence (Uncommitted / Beecher, Ill.) grounded into a fielder's choice and was safe at first. Advanced to second and third on a passed ball and scored on a wild pitch, 12-2.
Minutemen added three runs in the third and fourth reaching their largest lead of the game 15-2.
In the fifth, the Vikings didn't go down quietly just yet. Lead-off double from Nick McAllister (Erskine / Homewood, Ill.) and Spence reached via error, first and third no outs. Joe Rycerz (St. Xavier / Schererville, Ind.) lined an RBI single up the middle, 15-3. Ethan Imlach (Purdue Northwest / Mokena, Ill.) squeezed an RBI single to the third baseman, scoring Rycerz, 15-4.
The Vikings went scoreless throughout the rest of the game and the Minutemen added one run in the fifth handing the Vikings their second straight loss, 16-4 in seven innings.
"Just a game to forget honestly," Vikings Manager Rocco Mossuto said. "Put that one behind us and come back out Tuesday and get our revenge from today's loss."
The Vikings next game is Tuesday July 13 against the MCL Minutemen. First pitch is slated for 5:05 p.m. and the game will be at Prairie State College located in Chicago Heights, Ill. The game will be broadcasted on Facebook Live and you can view it on the Southland Vikings Facebook Page. Jack Theil and Vince Martarano will have the call for the game.