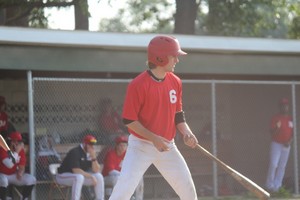 Hammond, Ind. - July 8, 2021 - The Southland Vikings (9-14) strung wins together for the second time this season, looking to extend their win streak to three with a rematch from Wednesday's matchup Crestwood Panthers (12-10) on Thursday. Back and forth the Viking led early, but walks and errors put the Vikings down as the Panthers took advantage and won 4-2 in the seven inning game.
The Vikings scored in the first inning, Luke Sefcik (Central Michigan / Palos Heights, Ill.) lined a single to right field with one out. Sefcik advanced to second on a passed ball and Caleb Evans (Jackson State / Hawthorn Woods, Ill.) powerd an RBI single up the middle scoring Sefcik, 1-0.
Crestwood responded back in the second inning with a run and Southland did the same in the bottom of the second. Ethan Imlach (Purdue Northwest / Mokena, Ill.) drew a lead-off walk, stole second base and advanced to third on a groundout with two outs. On the next batter, Imlach advanced home from a wild pitch, 2-1.
The Panthers came right back in the third with one run on errors and walks from the Vikings tying the game 2-2.
The Vikings were shut out the rest of the game and the Panthers scored two runs in the sixth inning as the Vikings lost the seven inning matchup 4-2.
"Walks and errors just kill you in this game," Assistant Manager Ryan Gyrion. "We threw about seven or eight walks and had three errors on the field. We had a good game defensively yesterday and today we didn't follow up that performance. For pitching, guys need to throw strikes. Throw it in the zone and let the defense help you out, walking guys is the last thing helping you out there."
The Vikings next game is Friday July 9 against the MCL Minutemen. First pitch is slated for 5:05 p.m. and the game will be at Irving Park located in Hammond, Ind. The game will be broadcasted on Facebook Live and you can view it on the Southland Vikings Facebook Page. Jack Theil and Vince Martarano will have the call for the game.