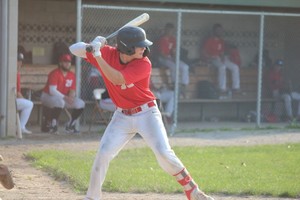 Hammond, Ind. - July 8, 2021 - Throughout his senior season at Marist High School, Luke Sefcik (Central Michigan / Palos Heights, Ill.) made headlines.
He had continued to do so this summer playing in the Midwest Collegiate League for the Southland Vikings before entering his upcoming freshman year at Central Michigan University.
Sefcik was named the 2021 Daily Southtown Baseball Player of the Year, an award he worked hard for his senior year.
"I'm an undersized kid, so it's hard to win awards like these," Sefcik said. "I didn't really tell a lot of people besides my family. I let people find out through the article, but I just wanted to tell a small number of people."
Luke's dad Kevin Sefcik played seven seasons in the major leagues and has helped Luke become the baseball player he is.
"It's important because we have the same body type, so he knows the exact swing that works for me," Sefcik said. "If I have a bad day, he knows what I need to fix and that's super important because you want to follow what he has to say since he was a smaller type of guy and made it. He taught me to humble myself. It's important to take care of your business behind the scenes and not have anything to distract you."
On Nov. 12, Sefcik inched closer to pro baseball after signing to play at Division-1 Central Michigan University.
"It was cool, my dad's good friend, Cangelosi Sparks coach Dave Payton, set me up with someone for a camp a couple years ago," Sefcik said. "Days after the camp, I got a call from the program and decided it was a good fit for me."
In nine games with the Vikings, Sefcik is hitting .357, with an OBP of .486, 10 hits, four RBIs, six runs, eight walks, and four stolen bases.
"I know a couple guys from the Catholic League who have played in this league." Sefcik said. "The MCL is competitive and a great way to get reps. "It's fun playing with this team and having a good time. I'm just trying to compete with the higher ups of the arms in the MCL, and limit the mental mistakes, things you can't have in college."
Sefcik has one goal in mind for the future of his baseball career.
"To get drafted one day. We'll see."