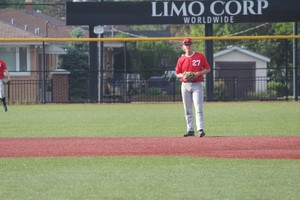 Hammond, Ind. - July 1, 2021 - The Southland Vikings (7-13) after their first consecutive wins of the season, looked to rebound from their loss on Tuesday. The Joliet Generals (10-5) squared off against the Vikings in Thursday's matchup. It was all Generals from the first inning, as the Vikings lost their second game in a row, 7-4.
The Generals came right out of the gate in the first two innings with six runs. A combination of walks, errors, extra base hits helped the Generals take an early 6-0 lead.
The Vikings responded in the bottom of the second. Lead-off walk from Jon Crowel (Flagler / Highland, Ind.) along with a walk from Dylan Engel (Illinois Wesleyan / Chicago, Ill.) and single from Kyel Alexander (St. Ambrose / Burbank, Ill.) loaded the bases with one out. Crowel scored on the first pitch to Nick McAllister (Eskrine / Homewood, Ill.) scored as a wild pitch, 6-1. Four pitches later, McAllister grounded out to second base, scoring Engel, 6-2.
Joliet answered with one run in the third to extend their lead, 7-2.
Vikings not going away, scoring two runs in the fifth inning. Lead-off walk from Darrius Little (Morton College / Chicago, Ill.). Little stole second base on the next at-bat. Patrick Doran (North Carolina Central / Evergreen Park, Ill.) lined an RBI single to left field, adding to his team high 16 RBI, 7-3. Crowel chopped an RBI single to center field, scoring Doran, 7-4.
Jake Paymaster (Triton / New Lenox, Ill.) out of the bullpen in the fourth inning and kept the Vikings in it. Paymaster dealt through five innings, two hits, zero earned runs, five strikeouts. Holding batters to a .105 batting average and bringing his ERA down to 2.16, second on the team.
The Vikings were shut out the rest of the game after their two run fifth, failing to mount any comeback at the plate. The Vikings lost 7-4, extending their losing streak to two and ending the week with a loss.
"Walks, errors, miscues, that's not a great thing have happened to your team and today it happened to us," Vikings Assistant Manager Ryan Gyrion. "I thought our bullpen, Paymaster and McKillop, did a great job of keeping us in this game. Unfortunately our swing selection at the plate wasn't good, guys were swinging when they were behind in the counts, instead of early and took many pitches in the zone."
The Vikings next game is Monday, July 5 as they face the Northwest Indiana Oilmen. The game is at Riverside Park located in Hammond, Ind. and the first pitch is scheduled for 5:05 p.m. The broadcast will be available on the Northwest Indiana Oilmen Facebook Page via Facebook Live. Brandon Vickrey, Leo Staudcaher, and Jack Theil will have the call for the game.