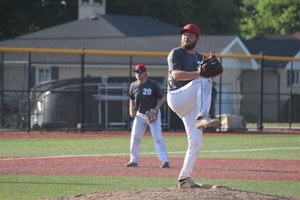 Hammond, Ind. - June 16, 2021 - The Southland Vikings (4-8) entered Wednesday's matchup on a two game losing streak and hosted one of the top teams in the MCL, Joliet Generals (6-3). The two teams split the two matchups last week. The Vikings went down early but came back late in the game, fell apart after and lost 8-2.
Through four innings the Vikings bats were silent as Liam McKillop (Lincoln Land / Chicago, Ill.) started for the Vikings in his first start of the year. McKillop held the Generals to two runs through four innings while recording five strikeouts, 2-0 Generals after four.
In the fifth inning, the Vikings chipped at the deficit. Lead-off double to left-center by Bryant Diel (Northwestern Ohio / South Elgin, Ill.) and Caleb Evans (Jackson State / Hawthorn Woods, Ill.) RBI single to center field scoring Diel, bringing up Evans RBI total to three on the season, 2-1.
The Vikings came right back in the sixth with a single from Dashon Moore (Georgetown College / Chicago, Ill.) and a line drive RBI single from Patrick Doran (North Carolina Central / Evergreen Park, Ill.) recorded his 8th RBI, second on the team. The game tied at 2-2.
Oscar Trevino (St. Xavier / Lowell, Ind.) relieved McKillop in the fifth inning, kept things in check for the Vikings but gave up the go-ahead run in the seventh inning, Generals taking a 3-2 lead. Trevino finished at three innings, three hits, three strikeouts, and bringing his ERA to 2.57.
It was all Generals entering the eighth inning, as they broke open the game with two runs in the eighth inning and three runs in the ninth inning, taking a commanding 8-2 lead and winning the contest as the Vikings fell for their third straight loss.
"We got some good reps out there today," Vikings Manager Rocco Mossuto said. "Tomorrows another day, let's hope we can turn it around and continue getting good reps."
The Vikings next game is Thursday, June 17 against the Crestwood Panthers. First pitch is slated for 5:05 p.m. and the game will be at Dowling Park located in Hammond, Ind. The game will be broadcasted on the Southland Vikings Facebook Page via Facebook Live. Jack Theil and Jon Zaghloul will have the call for the game.