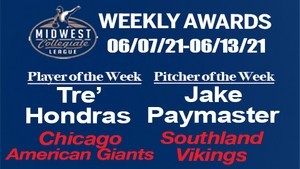 Hammond, Ind. – June 14, 2021 – The Midwest Collegiate League announced its weekly awards for the second week of the 2021 season on Monday as Southland Vikings left-hander Jacob Paymaster (Triton College / New Lenox, Ill.) was tabbed MCL Pitcher of the Week.
Paymaster was masterful in his start this week, pitching a seven-inning complete game shutout to lift Southland over Joliet 9-0 on Thursday. He struck out seven and walked three while yielding just four hits in the victory. Paymaster improved his record to 2-0 over three games (two starts) and owns a 3.00 ERA this summer with five walks against 13 strikeouts.
Paymaster in his first season with the MCL, has continued to impress. Totalling 19 swings and misses the past two games, holding hitters to a .167 batting average in those games. The lefty will look to continue his impressive performance in his next start.
2021 MCL Player of the Week Award Winners
June 7 – Tyler Schultz, Crestwood
June 14 – Tre' Hondras, Chicago American Giants
2021 MCL Pitcher of the Week Award Winners
June 7 – Benny Guevara, Crestwood
June 14 – Jake Paymaster, Southland