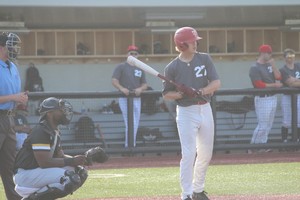 Hammond, Ind. - June 11, 2021 - The Southland Vikings (4-6) and Crestwood Panthers (7-5) met on Friday for the third matchup between the two. Both teams each took a game, the third was all Panthers as they jumped to an early lead and made it hard for the Vikings to comeback as they fell 14-5.
The Panthers scored nine runs in the first three innings giving themselves a convincing 9-0 lead going into the fourth inning.
The Vikings recorded their first hits and runs in the fourth inning, Joe Selby (Triton College / Romeoville, Ill.) drew a lead off walk, Bryant Diel (Northwestern Ohio / South Elgin, Ill.) ripped a RBI double in the left center gap, scoring Selby from first, 9-1. The next batter Kyel Alexander (St. Ambrose / Burbank, Ill.) lined a single to third base, scoring Diel, adding one more, 9-2. Marc Babicz (Lake Land / Stickney, Ill.) walked and on ball four, Alexander stole third, due to the errant throw from the catcher, Alexander scored and Babicz advanced to third base, 9-3. Jaden Lee (Undecided / Monee, Ill.) lined an RBI single to left field scoring Babicz, 9-4.
The next inning the Vikings came right back with another run after a lead-off single from Tommy Carlson (Moraine Valley / Peotone, Ill.). Selby poked a double past the right fielder, scoring Carlson, 9-5.
That would be all for the Vikings, as the game was only played seven innings and the Panthers went on to score one run in the fifth and four runs in the sixth inning, as the Vikings fell to the Panthers 14-5 in seven innings.
"Tough one today but guys got some good reps out there," Vikings Manager Rocco Mossuto. "I was glad we were able to get Luke Sefcik (Central Michigan / Palos Heights, Ill.) and Mitch Hundely (Morton College / Palatine, Ill.) in there for their first games to give them reps."
The Vikings next game is Saturday, June 12 against the Chicago American Giants. The game will take place at Gouwens Park located in South Holland, Ill. First pitch is slated for 6:05 p.m. and you can view the game on the Southland Vikings Facebook Page via Facebook Live. Jack Theil will have the call for the game.