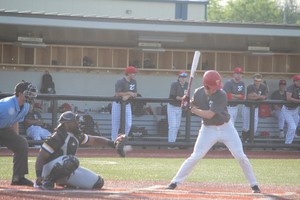 Hammond, Ind. - June 9, 2021 - The Southland Vikings (3-5) trying to win consecutive games for the first time all season, wouldn't be able to after losing to the Chicago American Giants (3-3) on Wednesday. The seven inning game was all Giants, as the Vikings failed to start a win streak and lose 7-2.
Through the first three innings, the Giants jumped to a convincing six run lead, after scoring four runs in the first inning and two runs in the third inning.
Vikings bats woke up in the fourth inning, Marc Babicz (Lake Land / Stickney, Ill.) drew a walk and Shawn Rigsby (St. Ambrose / Myrtle Creek, Ore.) lined a single to left field putting a runner in scoring position. Patrick Doran (North Carolina Central / Evergreen Park, Ill.) recorded the hardest hit ball for the Vikings with a two RBI triple, cutting the deficit to 6-2.
The Giants added one more in the sixth inning of an RBI single, trying to put the seven inning game out of reach at 7-2.
With three outs to work with, Vikings trying to come back and win consecutive games for the first time this season. Doran led the inning with his second triple of the game. The Vikings after Dorans triple went down three straight batters as they fell to the Giants, 7-3.
"Tough one today for us, this would have been a nice win early in the season," Vikings Assistant Manager Ryan Gyrion said. "It's important we put this game behind us and win tomorrow."
The Vikings next game is Thursday, June 10 against the Joliet Generals. First pitch is slated for 5:05 p.m. and the game will take place at Dowling Park located in Hammond, Ind. The game will be available on the Vikings Facebook page via Facebook Live. Jack Theil and Kevin Redfern will have the call for the game.