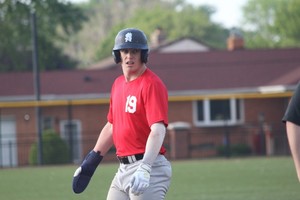 Hammond, Ind. - June 8, 2021 - Entering Tuesday's matchup the Southland Vikings (3-4) on a two game losing streak, traveled to Prairie State College to face the MCL Minutemen (3-4) for the first time. The Vikings led throughout the game, and displayed great offense and pitching in route to a 7-3 win.
The Vikings jumped on the board early in the first with a lead off walk from Dashon Moore (Georgetown College / Chicago, Ill.). Moore advanced to second on a passed ball and then stole third base, but scored on the same play due to a throwing error from the catcher, advancing Moore to home, 1-0 Vikings.
The Minutemen answered with their own run in the first tying the game at 1-1.
In the second, four consecutive walks from Angelo Cantelo (Lewis / Blue Island, Ill.), Ethan Imlach (Purdue Northwest / Mokena, Ill.), Shawn Rigsby (St. Ambrose / Myrtle Creek, Ore.), and Kyel Alexander (St. Ambrose / Burbank, Ill.) helped load the bases and score Cantelo, 2-1. Moore lined a single to left field, scoring Imlach, Rigsby was thrown out at home on the same play. 3-1 Vikings. Alexander scored on a passed ball in the next at-bat, 4-1.
The Vikings added on the lead in the third inning. Logan Anderson (South Suburban / Frankfort, Ill.) drew a lead off walk. Cy Kerber (Morton College / Elgin, Ill.) tripled to right center for his first hit of the season, scoring Anderson and adding to the lead 5-1. Rigsby ripped a single to left field, scoring Kerber, plating one more run, 6-1.
"Just trying to get at-bats and staying in baseball shape after coming from the MLB draft league for two weeks," Kerber said. "I just try to be an all-around player, play multiple positions. Just trying to progress with my game and get reps this summer."
Lucas Spence (Uncommitted / Beecher, Ill.) started for the Vikings and displayed his strikeout stuff. Throwing four innings, only giving up two runs, three hits, and nine strikeouts, making his MCL debut on the mound, one to remember.
One more run was tacked on the Vikings total in the fourth. Moore started with a lead off single, Moore stole second and third base, and advanced home after a Caleb Evans (Jackson State / Hawthorn Woods, Ill.) grounder turned into an error after a throw over the first baseman, 7-2 Vikings.
"Right now I'm seeing the ball well but not getting as many barrels, I've been getting hits but they haven't been hit all too hard, I'm seeing the ball well at the end of the day," Moore said. "My baserunning is huge, I'm not a power guy, I'm a line drive single guy, so to help my team win I have to contribute on the basepaths. Right now we have a good lineup, we are shaking off a little rust as it's the beginning of the year, but we're getting on track."
Billy Curtis (Trinity Christian / Lockport, Ill.) came in for relief in the fifth innings and kept the Vikings in the lead. Curtis finished his day at three innings, two hits, and zero earned runs. The game would only be seven innings, as the Minutemen scored one in the seventh but that would be all, as the Vikings broke their two game losing streak, and won 7-3.
"We played well on all sides of the ball here today and it was great to see," Vikings Assistant Manager Ryan Gyrion said. "We were on a losing streak and this was a great way to break out. We have to come out tomorrow and ride this great play to a winning streak."
The Vikings next game is Wednesday, June 9 against the Chicago American Giants. The game will take place at Dowling Park located in Hammond, Ind. First pitch is slated for 5:05 p.m. and you can view the game on the Southland Vikings Facebook Page via Facebook Live. Jack Theil will have the call for the game