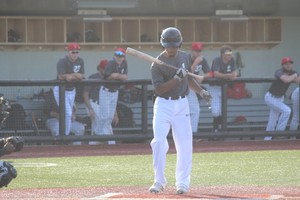 Hammond, Ind. - June 7, 2021 - The Southland Vikings (2-4) returned home to face the Joliet Generals (4-2) for the first time of the year. The seven inning matchup, Generals led throughout the game but the Vikings made it close at the end, losing 3-2.
The Generals came out of the gates hot with a solo home run in the first inning, RBI single in the third inning, and an RBI single in the fourth inning, Generals jumped to an early 3-0 lead after four innings.
The Vikings started to chip at the deficit in the fifth inning with a lead-off single from Marc Babicz (Lake Land / Stickney, Ill.) and a walk from Tommy Carlson (Moraine Valley / Peotone, Ill.). Babicz stole third base setting up a sac-fly from Kyel Alexander (St. Ambrose / Burbank, Ill.) scoring Babicz, 3-1 Generals.
Clayton Bumsted (St. Xavier / Palos Heights, Ill.) started for the Vikings and after having trouble early, found his groove by not allowing a run after the fourth inning to keep the game close for the Vikings. Bumsted finished the game at six innings, three strikeouts, and three runs allowed.
In the sixth inning, Patrick Doran (North Carolina Central / Evergreen Park, Ill.) led with a lead-off walk, Logan Anderson (South Suburban / Frankfort, Ill.) lined a double to center field advancing Doran to third. Angelo Cantelo (Lewis / Blue Island, Ill.) would hit one deep enough to score Doran, making it a one run game, 3-2.
With seven innings only played, the Vikings had three outs to work with. Carlson drew a lead-off walk, Lucas Spence (Uncommitted / Beecher, Ill.) lined a single to right with two outs. Doran hit an infield single, loading the bases with two outs and the go-ahead run at second base. Anderson swung at the first pitch, grounded out to the second baseman as the comeback would fall short, Vikings went on to lose 3-2 for their second straight loss.
"We came back and just fell short unfortunately," Vikings manager Rocco Mossuto said. "We'll come back tomorrow and try to win."
The Vikings next game is Tuesday, June 8 as they face the MCL Minutemen. The game will take place at Prairie State College located in Chicago Heights, Ill. First pitch is at 5:05 p.m. and the game will be livestreamed on Facebook via Facebook Live. Vince Martorano and Jack Theil will have the call for the game.