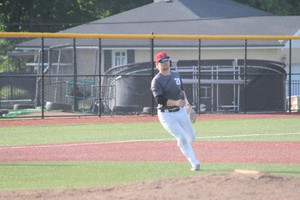 Hammond, Ind. - June 6, 2021 - The Southland Vikings (2-3) squared up against the Chicago American Giants (2-3) for the first time of the year. The Vikings offense was loud early in the game but the Giants used 15 runs to defeat the Vikings 15-5.
Dashon Moore (Georgetown College / Chicago, Ill.) led the first inning with a walk. Angelo Cantelo (Lewis / Blue Island, Ill.) got a hold of a baseball and took it to deep left field for his first home run of the year and a 2-0 lead.
The Giants scored 11 unanswered runs, with four in the first, four in the second, one in the third and two in the fourth jumping to a 11-2 lead after the fourth inning.
Hoping for a comeback, Moored led the fifth inning off with a single to left field. A fielder's choice by Logan Anderson (South Suburban / Frankfort, Ill.) put Anderson one with one out. Anderson advanced to second on a passed ball and to third on a wild pitch. Cantelo grounded to the shortstop but a high throw would keep Cantelo safe and score Anderson, 11-3. Marc Babicz (Lake Land, Stickney, Ill.) singled to center field advancing Cantelo to second with one out. Kyel Alexander (St. Ambrose / Burbank, Ill.) record a hit by pitch to load the bases. Cantelo scored on a wild pitch with Jaden Lee (Undecided / Monee, Ill.) batting who drew a walk, 11-4. Babicz scored on a wild pitch as the inning ended, cutting into the deficit 11-5.
That would be the only offense for the Vikings, as the Giants plated four more runs, having the 10 run rule play into effect ending in the seventh inning, having the Vikings lose 15-5.
"Today just wasn't our day, we started good with the home run," Vikings manager Rocco Mossuto said. "We've got a stretch of games so it's important to come back out tomorrow and play better."
The Vikings next game is Monday, June 7 as they face the Joliet Generals. The game will take place at Dowling Park located in Hammond, Ind. First pitch is slated to begin at 5:05 p.m. and will be available to view on the Southland Vikings Facebook Page via Facebook Live as Jack Theil and Kevin Redfern have the call for the game.