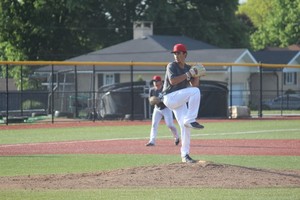 Hammond, Ind. - June 3, 2021 - The second straight matchup between Southland Vikings (1-2) and Northwest Indiana Oilmen (1-1) was just another example of how close the series between the two has been over the years. Back and forth matchup, but ultimately the Vikings lost the lead late and fell 5-4.
Chris Seropian (Lake Land CC / Chicago, Ill.) was on the hill for the Vikings and didn't disappoint. Seropian kept the Oilmen silent at the plate throughout his day setting up the Vikings offense to take the lead.
In the fourth, the Vikings gave Seropian run support. Logan Anderson (South Suburban / Frankfort, Ill.) reached base on an error and Patrick Doran (North Carolina Central / Evergreen Park, Ill.) drew a walk with no outs. Bryant Diel (Northwestern Ohio / South Elgin, Ill.) grounded into a fielder's choice, advancing Anderson to third. Angelo Cantelo (Lewis / Blue Island, Ill.) singled to center field, scoring Anderson, advancing Diel to third with one out, gaining a 1-0 lead. Shawn Rigsby (St. Ambrose / Myrtle Creek, Ore.) lined a single up the middle, scoring Diel, extending the lead 2-0.
Seropian, still on the mound for the Vikings, threw a scoreless fifth, but found some trouble in the sixth inning. The Oilmen plated two runs, tying the game at 2-2. The runs were unearned on Seropians line and he ended the day at 5 ⅔ innings, three hits, seven strikeouts.
The Vikings wouldn't waste time breaking the tie. Leadoff triple from Anderson and a Doran double, helped regain the lead at 3-2. Doran advanced to third on a passed ball, Cantelo scorched a ball to centerfield scoring Doran via sac-fly, extending the lead 4-2.
The Oilme came right back with their own two runs without recording a hit and tying the game at 4-4 at the end of the seventh. Still tied at 4 in the ninth, the Oilmen recorded two quick outs, their third batter reached on base via walk and would come around to score on a balk giving the Oilmen a 5-4 lead.
The Vikings bats went silent in the ninth and weren't able to mount any comeback, to fall to the Oilmen 5-4.
"It was a good game, back and forth," Vikings manager Rocco Mossuto said. "We played well and it just didn't go our way in the end."
The Vikings next game will be Saturday June 5 against the Crestwood Panthers. The game is at Riverside Park located in Hammond, Ind.. First pitch is slated to begin at 1:05 p.m. You can view the game on the Southland Vikings Facebook Page via Facebook Live. Jack Theil and Jon Zaghloul will have the call for the game.