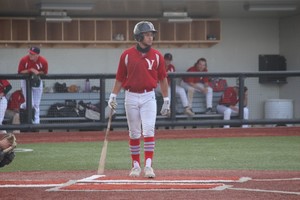 Hammond, Ind. - June 2, 2021 - A rivalry between the Southland Vikings (1-1) and Northwest Indiana Oilmen (0-1) that has presented back and forth matchups was no different on Wednesday night. Down early, the Vikings came back and won 6-3.
There was no action in the first two innings as Clayton Bumsted (St. Xavier / Palos Heights, Ill.) kept the Oilmen scoreless through two innings. The Oilmen collected multiple walks and singles helping them take a 3-0 lead after five innings.
The Vikings started to find their offense in the sixth inning. A lead-off double by Nick McAllister (Erskine / Homewood, Ill.) and a walk by Joe Selby (Triton / Romeoville, Ill.) set up runners on first and second. McAllister stole third, setting up an RBI groundout from Logan Anderson (South Suburban / Frankfort, Ill.) to chip at the deficit 3-1. Patrick Doran (North Carolina Central / Evergreen Park, Ill.) ripped a single into right field, scoring Selby from second, once again chipping at the deficit 3-2. The next batter Shawn Rigsby (St. Ambrose / Myrtle Creek, Ore.) drew a walk. Caleb Evans (Jackson State / Hawthorne, Ill.) would be called to pinch-hit and would deliver for the Vikings. Evan dropped a double in between the first basemen and right fielder scoring Doran and Rigsby, taking a 4-3 Vikings lead.
"I was ready to go, I've been ready to go." Evans said, "I wanted to have a good at-bat, take some pitches, and help the team. The pitcher came inside on me, so I made an adjustment to go the other way. This feels really good and I know we've got more coming."
While down 3-0 Nolan Vlcek (Marshalltown CC / Lockport, Ill.) came in the fifth inning and didn't disappoint. Keeping the Oilmen offense silent and keeping the Vikings in the game.
Up 4-3 the Vikings added insurance in the seventh and eighth innings. Selby scored on a wild pitch in the seventh inning extending the lead to 5-3. In the eighth, Evans grounded into a fielder's choice, he would score on a sac-fly from third from Marc Babicz (Lake Land CC / Stickney, Ill.) adding one to the run total 6-3.
With three outs to get, Vlcek, still on the mound for the Vikings, continued to deal and closed the game as the Vikings would win 6-3. Vlcek finished the night in relief at five innings, zero hits, and six strikeouts.
"I felt really good, I actually got my wisdom teeth pulled out four days ago, I came back hoping to go out there and dominate," Vlcek said. "Pitching for contact, attacking the strike zone, getting ahead in the counts. Once I got ahead 0-2 and 1-2, I was just throwing my slider in there as much as I could. I saw they were sitting offspeed early in the counts, so I would just attack the fastball. I felt really good and I can't wait to get back out there."
"This was a good win for us, I'm proud of how the guys played," Vikings manager Rocco Mossuto said.
The Vikings next game is Thursday, June 3 as they face the Northwest Indiana Oilmen. The game is at Dowling Park located in Hammond, Ind. and the first pitch is scheduled for 5:05 p.m. The broadcast will be available on the Northwest Indiana Oilmen Facebook Page via Facebook Live. Brandon Vickrey, Leo Staudcaher, and Jack Theil will have the call for the game.