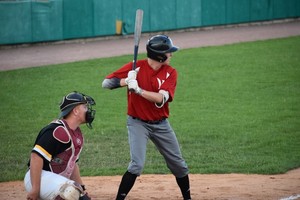 Hammond, Ind. - May 31, 2021 - The Vikings (0-1) faced off the Crestwood Panthers (1-2) in the season opener for the 2021 summer. The game was back and forth for the first four innings and featured timely clutch hitting by both teams but the Vikings would lose 9-5.
The Panthers jumped to a 2-0 lead in the third inning, scoring via a sac-fly in the first and third inning.
Southland jumped right back with their own scoring. After consecutive singles by Kyel Alexander (St. Ambrose/Burbank, Ill.) and Bryant Diel (Northwestern Ohio/South Elgin, Ill.) to lead off the inning. Joe Rycerz (St. Xavier/Schererville, Ind.) lined a double down the left field line scoring Alexander, having the Vikings chip at the lead 2-1. Alex Gasbarro (Purdue Northwest/New Lenox, Ill.) poked a ground-rule double over the right fielder's head scroing Diel and Rycerz, gaining a 3-2 lead.
The Panthers bats stayed hot as they scored in three consecutive innings following the third. Two runs in the fourth, three runs in the fifth, and one run in the sixth, regaining their lead at 8-3.
Gasbarro led off the sixth inning with a single, advancing to second on a passed ball, and stole third base. Ryan Adasiak (St. Xavier/Oak Lawn, Ill.) drove in Gasbarro with a RBI groundout, cutting the deficit to 8-4.
Crestwood extended the lead with one run in the eighth. The Vikings comeback fell short in the ninth. Jaden Lee (Undecided/Monee, Ill.) drew a lead-off walk, stole second base, and advanced to third on a wild pitch. Logan Anderson (South Suburban/Frankfort, Ill.) barreled a line drive into center scoring Lee cutting the lead to 9-5. The Vikings grounded into a double play to end the game.
"It's the first game of the year, it was great to get some of the guys in there some reps and at-bats," Vikings manager Rocco Mossuto said. "We'll come out Wednesday and play some ball."
The Vikings next game is Wednesday, June 2 as they face the Northwest Indiana Oilmen. The game is at Dowling Park located in Hammond, Ind. and the first pitch is scheduled for 5:05 p.m. The broadcast will be available on the Northwest Indiana Oilmen Facebook Page via Facebook Live. Brandon Vickrey, Leo Staudcaher, and Jack Theil will have the call for the game.