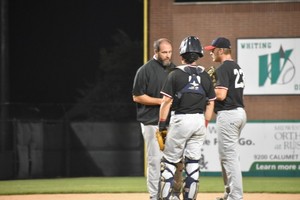 Hammond, Ind. - May 25, 2021 - After a franchise-best start in 2020, the Vikings look to return to the playoffs after missing a berth in 2020. Rocco Mossuto returns to coach the Vikings after being hired in the second half of last season.
Mossuto hopes that his first taste of the MCL last season can help him out for this upcoming season.
"Coaching is coaching right," Mossuto said. "It was great to be able to come in and hang out with the guys last year. That's what it's all about being out on the field playing some baseball."
The Vikings enter the 2021 season with a new fresh team including 30 players who were not from the 2020 season.
"We are happy with the roster this year, we have a great blend of guys," Mossuto said. "Everyone is going to play. We are all about our guys getting reps and preparing for their upcoming college seasons. Our approach will be for each guy to get the most out of his summer experience from the coaches to the players."
On the other side, the Vikings will have five returnees from the 2020 season. The list includes, Logan Anderson (South Suburban / Frankfort, Ill.), Chris McDevitt ( Indiana State / Chicago, Ill.), Nick McAllister (Erskine / Homewood, Ill.), Clayton Bumsted (St. Xavier / Palos Heights, Ill.) and Billy Curtis (Trinity Chrisitian / Lockport, Ill.).
"I think it's great we were able to bring some guys back from last year," Mossuto said. "They will be a great asset for the new guys to learn from."
With seeing some of the players already, Mossuto believes that he has a great group of players on hand for the 2021 season.
"We had about half the guys out to practice this week and it was great to see everyone sticking around after to hang out," Mossuto said. "Besides getting reps, it's important for the relationships these guys will develop playing together."
The Vikings will start the season on the road Friday, May 28 against the Joliet Generals at Benedictine University located in Lisle, Ill. First pitch is slated for at 7:05 p.m. You can view the game on the Southland Vikings Facebook Page via Facebook Live. Kevin Redfern alongside Jack Theil will have the call for the game.