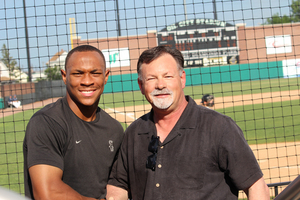 Chicago, Ill. – April 25, 2021 – Former Midwest Collegiate League player Corey Ray has reached the ultimate dream.
Ray, who played for the Southland Vikings in 2013, made his Major League Baseball debut as a member of the Milwaukee Brewers on Saturday afternoon in his hometown of Chicago. Ray, who was added to the active roster shortly before game time, came to the plate as a pinch hitter in the fifth inning of Saturday's game against the Chicago Cubs at Wrigley Field.
Ray battled from down 0-2 in the count to work a walk, and later came around to score a run. He remained in the game as the right fielder after the pinch-hit plate appearance, which contributed to a 4-3 win for the Brewers.
The highest draft choice in MCL history, Ray was selected No. 5 overall by the Brewers in the first round of the 2016 MLB First-Year Player draft after a successful collegiate career at Louisville. While attending a Northwest Indiana Oilmen game as a spectator, Ray joined the Oilmen radio broadcast on AM 1230 WJOB in June 2016 shortly after being drafted.
"I remember the talent and competition in the Midwest Collegiate League," Ray said in the 2016 interview. "You had to bring your best every day. I felt like every game was close. I learned a lot from the players on my team. The college game is a lot faster than the high school game, and I think playing in this league got me acclimated to the speed of the game."
The Simeon High School product has played at every level of the Brewers organization since his professional debut in 2016. He started the 2021 campaign on the minor-league taxi squad before receiving the call to the show prior to Saturday's game.
Ray, a left-handed hitting outfielder, becomes the fourth MCL alum to play in the big leagues, joining Kevin Kaczmarski (New York Mets), Tony Cingrani (Cincinnati Reds and Los Angeles Dodgers) and MLB All-Star Paul DeJong (St. Louis Cardinals). Since the league was founded in 2010, the MCL has aided numerous players in their baseball development. The league has had 89 alumni go on to play professionally.
Relevant Links
MLB.com story on Ray's big-league debut
2016 MCL story after Ray's visit to Oil City Stadium
Brandon Vickrey's 2016 Oilmen Radio Interview with Ray