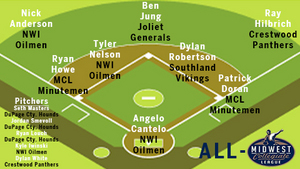 Hammond, Ind. - August 18, 2020 - As the 2020 MCL season concluded Monday night, the league has announced it's all-league team.
One Viking made the all-league team, second basemen Dylan Robertson (Iowa Western/Downers Grove, Ill.) was a unanimous selection.
Robertson, made his MCL debut in 2020, and didn't disappoint. He led the team in hits (31), and RBI's (20). He was one of the top batting averages (.323) on the team, along with on-base percentage (.425). In addition, Dylan provided big games including a 5-6, home run, two RBI's game.
2020 MCL Major Awards
MVP – Ray Hilbrich, Crestwood Panthers
Pitcher of the Year – Jordan Smevoll, DuPage County Hounds
Manager of the Year – Isaac Valdez, Crestwood Panthers
2020 MCL All-League Team
P - Seth Masters, DuPage County Hounds
P - Jordan Smevoll, DuPage County Hounds
P - Ryan Louch, DuPage County Hounds
P - Kyle Iwinski, NWI Oilmen
P - Dylan White, Crestwood Panthers
OF - Nick Anderson, NWI Oilmen (unanimous)
OF - Ray Hilbrich, Crestwood Panthers (unanimous)
OF - Ben Jung, Joliet Generals
C - Angelo Cantelo, NWI Oilmen
1B - Patrick Doran, MCL Minutemen
2B - Dylan Robertson, Southland Vikings (unanimous)
SS - Tyler Nelson, NWI Oilmen
3B - Ryan Howe, MCL Minutemen