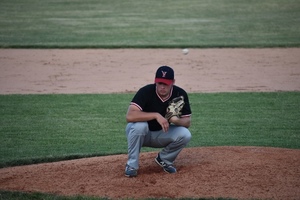 Hammond, Ind. - August 13, 2020 - The playoff hopes for the Vikings (18-17) were gone but one game remained on their schedule. The MCL Minutemen (12-21) who were also eliminated traveled to Dowling Park for the final game between the Vikings and Minutemen. The game was tied after the first inning but the Minutemen exploded with runs cruising to an 18-2 mercy rule win.
The Minutemen started the game with a home run taking an early 1-0 lead. Down by one, the Vikings used a Daniel Barrios (St. Xavier/Peotone, Ill.) leadoff single and Matt Monahan (St. Xavier/New Lenox, Ill.) walked to create a run opportunity. Bryan Broecker (Michigan State/Chicago, Ill.) lined a single to left field scoring Barrios for his third RBI of the season tying the game 1-1.
The Minutemen used three singles, four walks, and inside the park home run to score seven runs in the second inning taking their second lead of the game 8-1.
Chris Tollez led off the bottom of the second inning with a walk and with two outs Nick Kolasa drew a walk, runners on first and second. Barrios lined the ball to the first basemen but due to an error on the play Tollez came around and scored cutting the deficit to 8-2.
The Minutemen unleashed their bats in the third and fourth innings. Scoring two runs in the third inning and eight runs in the fourth inning invoking the mercy rule on the Vikings with the final score of 18-2.
"Today was about having fun with the kids," Vikings manager Rocco Mossuto said. "It was the final game of the season and it didn't mean anything in terms of winning percentage or standings. I'm glad we finished the year over .500 with a winning record, I came in for the final three weeks these kids played well."
The season is officially over for the Southland Vikings. Finishing the year at 18-17, fourth place in the MCL standings, and their fourth consecutive winning season.