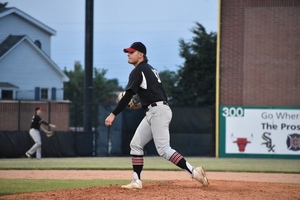 Hammond, Ind. - August 12, 2020 - Entering the final stretch of the regular season, The Vikings (18-16) with low odds still had a shot to make the MCL playoffs. Three games back of second place, making it to where the Vikings needed to win their next three games. The Joliet Generals (7-24) stayed ahead in the seven inning game and cruised to a 4-2 victory.
Daniel Barrios (0-1) (St. Xavier/Peotone, Ill.) started his first MCL game on Wednesday. Barrios only gave up one run in his three inning outing with that run coming in the second inning, giving the Generals 1-0 lead. He finished the day with three innings, four hits, one run, and three strikeouts, including two straight strikeouts to get out of a bases loaded jam in the third inning.
The Generals tacked on to the lead with a two RBI double in the fourth inning extending the lead to 3-0.
The Vikings scored their first run in the fifth inning. Leadoff walk by Chris Tollez and Bryan Broecker (Michigan State/Chicago, Ill.) reached by error, Vikings had runners on first and second no outs. After two strikeouts, Nick McAlister (Southern Illinois/Homewood, Ill.) lined a single to right field scoring Tollez, cutting the deficit to 3-1.
The Generals came right back with their own run in the sixth inning after an RBI single matching the Vikings run in the fifth inning extending the lead to 4-1.
Bases loaded with one out in the sixth inning, the Vikings couldn't score any runs extending their LOB to eight.
Down 4-1 in the last inning, the Vikings needed four runs to continue their hopes of making the MCL playoffs. McAlister started the inning with a leadoff double, and Matt Monahan (St. Xavier/New Lenox, Ill.) extended his hitting streak to nine games with an RBI triple to left center scoring McAlister extending his RBI total to nine, 4-2 Generals. Two quick outs for the Vikings and that would be all. The Vikings lost to the Generals 4-2 and their MCL Playoff hopes would vanish.
"Well played game by both teams, we couldn't come up top today. Vikings manager Rocco Mossuto said. "These kids are all getting ready to leave and just trying to get those final reps in."
The Vikings finish their home schedule Thursday, August 13 against the MCL Minutemen. The game will be at Dowling Park, located in Highland, Ind. and the first pitch is scheduled for 5 p.m. The broadcast will be available on the Southland Vikings Facebook page via Facebook Live. Jack Theil alongside Ryan Zimmerman will have the call for the game.