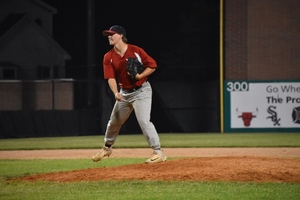 Midlothian, Ill. - Aug. 7, 2020 - The Southland Vikings suffered another blow to their postseason hopes after Friday's 7-3 loss to the Jolie Generals at Howie Minas Field in Midlothian.
With both teams agreeing to play seven innings, the Vikings took an early lead but ended up running out of time to mount a comeback after surrendering 7 runs in the final three innings of the game.
"When you see teams six, seven, eight times in a league, every once in a while things don't go your way," Southland Vikings manager Rocco Mossuto said psotgame.
Jacob Schroeder (Northern Illinois/ Flossmoor, Ill.) slugged his fourth home run of the season to stake the Vikings to a 2-0 second inning lead, and Logan Anderson added an RBI for the Vikings offenseive output on the evening. Reigning MCL Pitcher of the week Clayton Bumsted looked like he had all the run support he would need cruisng through his first four innings of work.
However things took a turn in the fifth inning. The Vikings opened the inning with three straight singles to push their lead to 3-1. But the Vikings threat with no one out was quickly wiped out, after Chris McDevitt lined into a 4-3-6 triple play to end the frame with minimal damage done to the Generals
In the bottom of the 5th Bumsted hit a rough patch for the first time in his young MCL career, surrendering three runs and the lead on a one out double. Bumsted was pulled one batter later after hitting his second batter of the inning, and surrendering the lead. The runs surrendered were the first earned runs charged to Bumsted this season
"He was just a little off after that third inning," Mossuto said. "I should've taken him out sooner. That's on me."
Mossuto brought in Mike Tobin who manufactured a strikeout and flyout to get out of the jam. Tobin was victimized the next inning surrendering three more runs to give the Generals what would become an insurmountable 7-3 lead.
The Vikings loss dropped them to just a game over .500 at 16-15 and 5.5 games back of the first place Northwest Indiana Oilmen. The windown to sneak into the two team playoff is still open, but will close rapidly if the Vikings continue play that has seen them go just 3-7 in their last 10 games.
While frustrating, the poor play is not the end of the world for Mossuto's team in a league where the primary goal is to develop skills for the college season.
"I'm just looking for these guys to get their reps and get better for their college teams when they go back to school," Mossuto said.
With school set to resume later this month and less than two weeks left in the season, the Vikings have a golden opportunity to turn things around on Saturday, when they take on the third place Crestwood Panthers at 5 p.m. on the Crestwood Panthers broadcast network