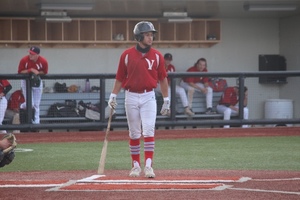 Hammond, Ind. - August 6, 2020 - The Vikings (16-14) entering Thursday's matchup, three games back of second place with two weeks left of the season. Needing a win to keep their playoff hopes alive, the MCL Minutemen (10-18) had different plans in mind. The Vikings thin in pitching used three position players on the mound but the offense failed to score in a 8-0 loss.
Logan Anderson (South Suburban/Frankfort, Ill.) started today for the Vikings, Anderson who originally plays third base made his first career start. He lasted two and two thirds innings, giving up two unearned runs as the Minutemen climbed to an early 2-0 lead.
The Minutemen came right back in the third inning with three more runs extending their lead to 5-0.
Anthony Rogers (Concordia/Lombard, Ill.) came in for relief in the fifth inning and threw two scoreless innings, with two strikeouts.
As the Vikings couldn't get anything going on offense, the Minutemen scored two more runs in the sixth inning and one in the seventh to make it 8-0.
With the game only going seven innings, the Vikings had three outs left to mount a comeback. Matt Monahan (St. Xavier/ New Lenox, Ill.) started the inning with a lead off single for the third Vikings hit but that would be all from the offense. Failing to score and going a game back in the MCL standings, losing 8-0.
"It's tough when you have to pitch position players," Vikings manager Rocco Mossuto said. "Our guys just went out there and played baseball but it didn't go our way. Let's just come back out tomorrow and be ready to play."
The Vikings next game is Friday, August 7 against the Joliet Generals (4-22). The game is at Howie Minas Field located in Midlothian, Ill. and the first pitch is scheduled for 3 p.m. The broadcast will be available on the Joliet Generals Facebook page via Facebook Live.