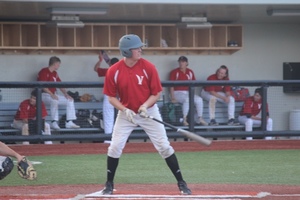 Hammond, Ind. - August 4, 2020 - The Vikings (16-13) coming off one of their best wins of the season on Monday, hosted the Joliet Generals (4-21) trying to climb up in the standings. A game where two position players pitched for the Vikings kept the game intact for a 4-3 seventh inning walk-off win.
Billy Curtis (North Central/Lockport, Ill.) who had only thrown one pitch in the season, started for the Vikings on Tuesday. Curtis started the game with a one, two, three inning in the first but gave up a run in the second inning giving the Generals a 1-0 lead.
Down 1-0 in the third inning, Curtis started the inning with a hit by pitch, Dane Thomas (Wright State/Chicago, Ill.) followed with a walk, and Chris McDevitt (Indiana State/Chicago, Ill.) drew a walk loading the bases with two outs. Logan Anderson (South Suburban/Frankfort, Ill.) doubled to left field on a line drive clearing the bases for his 12 RBI of the year and sixth in the last two games for a 3-1 lead.
Curtis came out for one more inning of work in the fourth and gave up one run cutting the deficit at 3-2. His final line was four innings, two runs, three strikeouts, and zero walks.
Anderson came in for relief in the fifth inning and pitched a scoreless inning ending his day with one inning, one hit, and two strikeouts.
Nick Heiden (Webster/Burbank, Ill.) came in for the six out save. Heiden had a scoreless sixth inning but gave up one run in the seventh as the Generals tied the game at 3-3.
With the game only being seven innings the Vikings had a chance to walk it off or end in a tie. With two outs, Dashon Moore (Illinois-Springfield/South Holland, Ill.) singled to left field, starting the two out rally. Dylan Robertson (Iowa Western/Downers Grove, Ill.) lined the ball to centerfield dropping for a single, Moore rounded second and advanced to third but an error on the throw by the center fielder, Moore advanced home and the Vikings walked it off 4-3.
"That's a great team win, you look at what we were dealt with today in terms of having two position guys pitch. It's a great win," Vikings manager Rocco Mossuto said. "Anderson with the huge double and the pitching helping us win, it's a great feeling all around."
The Vikings look to continue their win streak on Wednesday, August 5 against the MCL Minutemen. The game will be at Dowling Park located in Hammond, Ind and first pitch is scheduled for 1 p.m. The broadcast will be available on the Southland Vikings Facebook page via Facebook Live. Jack Theil alongside Ryan Zimmerman will be on the call for the game.