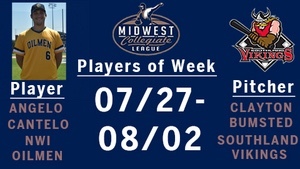 Hammond, Ind. - August 3, 2020 - A debut for Clayton Bumsted (St. Xavier/Palos Hills, Ill.) that he won't forget. Bumsted has been awarded MCL Pitcher of the Week on Monday.
Bumsted worked 12 innings without allowing an earned run over two games. He issued three walks and struck out 11 while holding opponents to a .163 average. Bumsted did not allow an earned run over six innings in his debut vs. Joliet on Monday, then worked six shutout frames of two-hit ball to earn the victory and lift the Vikings over the Crestwood Panthers on Saturday.
Bumsted becomes the second player for the Vikings to win Pitcher of the Week and the third Southland Vikings player to win a weekly honor.
The Vikings return to the field Monday, August 3 against the Northwest Indiana Oilmen (18-7). The game will be at Dowling Park located in Hammond, Ind. and the first pitch is 5 p.m. The broadcast will be available on the Northwest Indiana Oilmen Facebook Page via Facebook Live. Branond Vickrey, Andrew Fish, and Jack Theil will have the call for the game.
2020 Player of the Week Award Winners
July 13 – Justin Rios, Southland
July 20 – Patrick Doran, Minutemen
July 27 – Ray Hilbrich, Crestwood
Aug. 3 – Angelo Cantelo, NWI
2020 Pitcher of the Week Award Winners
July 13 – Jake Karaba, Southland
July 20 – Jack Guzek, NWI
July 27 – Kyle Iwinski, NWI
Aug. 3 – Clayton Bumsted, Southland