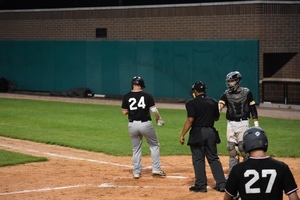 Merrillville, Ind. - August 1, 2020 - The Vikings (14-12) in danger of their season slipping away while on a four-game losing streak, needed a win. They faced the Crestwood Panthers (12-11) for the second consecutive day. The Panthers were victorious in yesterday's matchup, today was all Vikings after a dominant pitching performance and timely hitting in a 4-0 win.
Clay Bumsted (1-0) (St. Xavier/Palos Hills, Ill.) got the starting nod for the Vikings. Bumsted made his second start of the season and didn't miss a beat. He dealt through the Panthers lineup retiring 13 consecutive batters from the second inning to the sixth inning. Bumsted finished the day at six innings, two hits, zero earned runs, seven strikeouts, and kept his ERA at 0.00 for the year.
"I noticed their lineup was very left heavy and my two-seam fastball tails out on lefties, that helped a lot," Bumsted said. "I was very confident with my breaking stuff working today and my confidence on the mound was high. I didn't have to shake off the catcher once today."
The four runs for the Vikings were spread out throughout the game. The first inning Dashon Moore (Illinois-Springfield/South Holland, Ill.) led the inning with a hit by pitch. Moore was able to reach third after a pickoff throw passed the first baseman, going from first to third. Matt Monahan (St. Xavier/New Lenox, Ill.) singled to left field scoring Moore for his first RBI to make it 1-0.
Moore in his second plate appearance doubled to left field in the third inning. Dylan Robertson (Iowa Western/Downers Grove, Ill.) singled to right field scoring Moore, 2-0.
More insurance runs came for the Vikings, Robertson singled in the fifth inning and Luke Napleton (Quincy/La Grange, Ill.) doubled off the left-field wall scoring Robertson from second extending the lead to 3-0.
Consecutive singles by Bryan Broecker (Michigan State/Chicago, Ill.) and Dane Thomas (Wright State/Chicago, Ill.). Stephen Insely (Moraine Valley/Chicago, Ill.) singled to center field scoring Broecker making it 4-0 Vikings as that would be the final score.
"This was a great team win for us, our pitching was outstanding and really set us up here with a win," Vikings manager Rocco Mossuto said. "We needed this win as well, the last couple of games, we've let some get away from us but today we executed and had a great win."
The Vikings next game is Sunday, August 2 against the DuPage County Hounds. The game is at Aurora Central Catholic High School located in Aurora, Ill. The first pitch is scheduled for 5:30 p.m. The broadcast will be available on the Southland Vikings Facebook page via Facebook Live. Jack Theil alongside Thomas Gorski will have the call for the game.