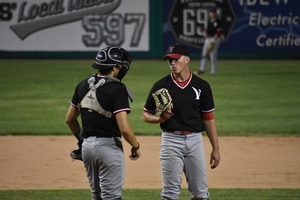 Merrillville, Ind. - July 31, 2020 - Entering Friday's matchup, the Vikings (13-12) were currently on their longest losing streak of the season three games. Their opponent the Crestwood Panthers (12-10) were 8-2 in their last ten games before the matchup. The Panthers jumped to an early lead and never looked back. The Panthers led throughout the game and won 5-2 overtaking the Vikings for third place in the MCL standings.
Ryan Manikowski (2-3) (Creighton/New Lenox, Ill.) started for the Vikings. Manikowksi gave up one run in the first inning. He would throw two consecutive scoreless innings before running into trouble in the fourth inning. Manikowksi gave up three runs in the fourth ending his day at four innings, four runs, and four strikeouts.
Down 4-0 in the fifth inning, the Vikings sought for runs. Luke Napleton (Quincy/La Grange, Ill.) started the inning with a leadoff double to center field. Napleton advanced to third on a groundout as Daniel Barrios (St. Xavier/Peotone, Ill.) followed with a walk. Stephen Insely (Moraine Valley/Chicago, Ill.) recorded a hit by pitch to load the bases with one out. Dashon Moore (Illinois-Springfield/South Holland, Ill.) followed with another hit by pitch scoring Napleton for his 12 RBI of the season cutting the deficit 4-1. Dylan Robertson (Iowa Western/Downers Grove, Ill.) singled to left field scoring Barrios for his 16 RBI, 4-2 Vikings.
That would be all for the Vikings offense the rest of the game. The Panthers added an insurance run in the seventh inning to make it 5-2 Panthers.
The Vikings made it interesting in the eighth inning after loading the bases with two outs but left all runners on base as no runs would score.
"Tomorrows another day, we pitched well today and I think our pitching has taken a step forward this past week," Vikings manager Rocco Mossuto said. "We just need to score runs and execute, that's been the problem is scoring runs and today our bats weren't hot but credit to their pitching."
The Vikings look to end their losing streak Saturday, August 1 as they face the Crestwood Panthers. The game will be at Andrean High School located in Merrillville, Ind. and the first pitch is scheduled for 1 p.m. The broadcast will be available on the Crestwood Panthers Facebook page via Facebook Live. Jon Zaghloul alongside Jack Theil will be on the call for the game.