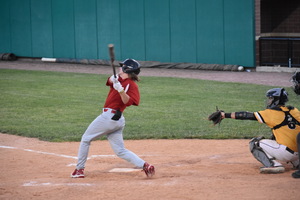 Hammond, Ind. - July 29, 2020 - The Vikings (13-10) and Hounds (15-6) both coming off losses in their previous matchups, looked for a bounce back win in the showdown between the two. The game started as a pitcher's duel but quickly turned into a dominant performance by the Hounds winning 11-0.
The Hounds started the first inning with a two singles with Stahley of the Hounds scoring and taking an early 1-0 lead.
The Vikings created some momentum in the bottom of the first with a Stephen Insely (Moraine Valley/Chicago, Ill.) single and a Bryan Broecker (Michigan State/Chicago, Ill.) single to right field advancing Insely to third with two outs. The Vikings wouldn't be able to score any runs though leaving Insely at third.
The third inning the Hounds added one more run to their lead after a single and double. With runners on third and first, San Jule recorded a fielder's choice extending the lead to 2-0.
The fourth and fifth innings both offenses were quiet as no runs and two hits combined for both teams through the two innings.
Entering the sixth inning the Hounds held a 2-0 lead, the sixth proved to be the inning the Hounds needed to walk away with today's game. The Hounds scored six runs in the sixth inning extending their lead to 8-0.
The Hounds needed two runs to apply the 10 run-rule on the Vikings in Wednesday's matchup. They were able to score three runs in the seventh inning and the Vikings went one, two, three in the bottom of the seventh and the Hounds would apply the 10 run-rule and win 11-0.
"We're just trying to use different guys and see how they play," Vikings manager Rocco Mossuto said. "There's some season left to get back in this but I wanted to keep guys flexible and try new things with these players."
The Vikings look to end their losing streak Thursday, July 30 as they face the Northwest Indiana Oilmen. First pitch is scheduled for 7:10 p.m. and the game is at Oil City Stadium located in Whiting, Ind. You can watch the game on the Northwest Indiana Oilmen Facebook page via Facebook Live. Brandon Vickery alongside Jack Theil will have the call for the game.