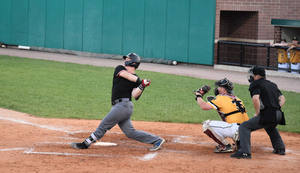 Hammond, Ind. - Strong starting pitching only told half the story of Monday evening's 9-8 walkoff win for the Southland Vikings over the Joliet Generals. The Generals' Noah Mahtias and the Vikings' Clay Bumsted (Stagg HS/Palos Heights, Ill.) in his MCL debut, both went six innings strong.
After their exits, it became an offensive display and a contest to see whose bullpen could last the longest. In the end it would be Southland's Dan Trudeau (Illinois Wesleyan/Mokena, Ill.) who bought the Vikings offense enough time to put up 7 runs on the Joliet bullpen over the final three innings of the game.
"It was up and down," Southland Vikings manager Rocco Mossuto said postgame. "They played, they didn't give up the whole game. They never gave up all day, it was on the kids for winning that game today."
The Vikings struck first thanks to a Dashon Moore (Illinois Springfield/South Holland, Ill.) leadoff triple, which set Dylan Robertson (Iowa Western CC/Downers Grove, Ill.) up for an RBI on a groundout a batter later. After a three-run fourth inning for Joliet, the Vikings got within a run on a Dane Thomas (Wright State/Chicago, Ill.) RBI single in the fifth.
Joliet seemed to pull away with three more runs in the seventh and an insurance run in the 8th. Yet the 7-2 was not enough to fend of the Vikings, who scored two runs in the eighth and tied the game in the ninth by drawing six straight walks while down to their final out to tie the game at 7.
The Generals quickly reclaimed their lead in the 10th when their bonus runner scored from second base. They would end up leaving the bases loaded and without any additional runs coming across to score.
In the bottom half of the lone extra inning, it was all Thomas as he doubled in Nick McAlister (Southern Illinois/Homewood, Ill.) to tie the game at eight, advancing on the throw home in the process. With two outs, he would come around to score with Moore at the plate when a wild pitch kicked to the backstop, giving the Vikings their 13th win of the season.
The win was significant for the Vikings because it allowed the team to keep pace with the NWI Oilmen and DuPage County Hounds for one of two playoff spots as the teams approach the halfway point of the pandemic condensed season. As of Monday evening, the Vikings sit just a half game behind the Oilmen for second place.
"There's a lot of talent here," Mossuto said. "We'll have a chance to be in the top two at the end, and then we'll just let the chips fall where they do."
The team has a quick turnaround, with its next game at 1 p.m. against the MCL Minutemen from Dowling Park in Hammond, Ind. The game will be broadcast on the Southland Vikings' Facebook Live