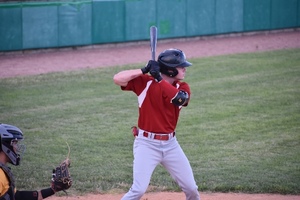 Hammond, Ind. - July 20, 2020 - The Vikings (10-6) who were in a three-way virtual tie for first in the MCL standings hosted the Joliet Generals (3-9) who sat in last place. The Vikings came off their best offensive performance with 14 runs, 14 hits, and four runs in Saturday's win. Monday's game the Vikings struggled to find momentum on offense in a 8-2 loss.
The Generals struck first with three singles and a sac fly in the first inning, taking an early 2-0 lead. The top of the fourth, the Generals kept the momentum going with three singles and a double, and a hit by pitch scoring four runs in the fourth extending the lead to 6-0.
The bottom of the fourth, the Vikings scored their first run of the game. After Jake Schroeder (Northern Illinois/Flossmoor, Ill.) doubled to left field to leadoff the inning. Chris McDevitt (Indiana State/Chicago, Ill.) singled to center field scoring Schroeder, recording his second RBI of the year, cutting the deficit to 6-1 Generals.
After the Generals added one more run in the fifth making it 7-1 Generals, the Vikings would cut into the deficit once again. Dashon Moore (Illinois-Springfield/South Holland, Ill.) lined a ball to center for a lead off single. Moore advanced to second and third on a ground ball. Anthony Rios (Lewis/Lemont, Ill.) hit a sac fly scoring Moore, recording his 12th RBI of the season, making it 7-2 Generals.
The Generals added one more run in the ninth, and held the Vikings to a one, two, three inning in the bottom of the ninth, winning 8-2.
"We were flat, that's about it," Vikings Manager Dave Letourneau said. "Wash today's loss and if we don't we have no shot tomorrow."
The Vikings return to action Tuesday, July 21 as they face the Northwest Indiana Oilmen (10-4). The game will be at Dowling Park located in Hammond, Ind. First pitch is scheduled for 1 p.m. and you can watch the game on the Northwest Indiana Oilmen Facebook page via Facebook Live. Jack Theil alongside Andrew Fish will have the call for the game.