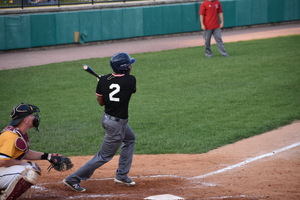 Hammond, IN - Strong pitching and a modest effort at the plate were not enough to help the Vikings overcome mental errors in the field, losing to the DuPage County Hounds 6-5 on Monday at Dowling Park.
Starting pitcher Ryan Manikowski (Creighton/New Lenox, Ill.) went six strong allowing just three runs on four hits, and shortstop Dashon Moore (Illinois-Springfield/South Holland, Ill.) finished 4-4 with two runs and a walk. Yet Moore ended up stranded at first in the bottom of the ninth, and Manikowsi ended up with the loss.
"You've got to give the other team credit when they get hits, but when you're giving freebies that's where you get in trouble and that's where you lose focus," Vikings manager Dave Letourneau said. "You've got to come to the field prepared and focused every single day."
Southland had a chance to grab a commanding lead in the bottom of the fourth, with the bases full and nobody out. Instead only one run came across on a Jake Schroeder (Northern Illinois/Flossmoor, Ill.) sacrifice fly that tied the game 1-1.
The Hounds recouped the lead with a two-run fifth inning, but the Vikings scratched one more run across in the sixth to make it a 3-2 game.
With a chance to keep DuPage at bay, the Vikings picked up two quick outs in the seventh before a pair of softly hit grounders turned into base hits that kept the inning alive. The Hounds' Matt Bottcher then dumped a bloop single into right field, and bobbles by right fielder Nick McAlister (Southern Illinois/Homewood, Ill.) and Moore allowed for both runners to score to put the Hounds up 5-3.
DuPage tacked on a crucial insurance run an inning later to go up 6-3 in the top half of the eighth. In the bottom of the frame, the Vikings scored two runs on an error by Bottcher to make it a 6-5 game.
In the ninth, Moore reached base on a two out walk, representing the tying run, but reigning MCL Player of the week Justin Rios (North Central/Lemont, Ill.) struck out swinging to end the game.
The loss was the third in four games for the Vikings, dropping them to 7-3 on the season. With the condensed MCL schedule this season, fortunately the Vikings will not have much time to dwell on Monday's defeat.
"Just bounce back," Letourneau said. "Things we did today as individuals we have to clean up, for our own sake. Erase it and come back more focused, more ready to play."
Southland will attempt its bounce back Tuesday against a familiar foe in Crestwood, who the Vikings have beaten three times already this season. First pitch is scheduled for 1 p.m. at Dowling Park in Hammond, Ind. Jack Thiel and Jon Zaghloul will have the call on the Southland Vikings Broadcast Network.