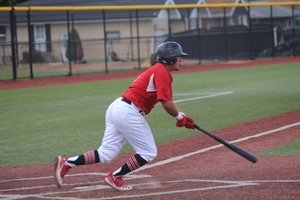 Midlothian, Ill. - July 10, 2020 - The Vikings came into Friday's game with six consecutive wins trying to extend their streak to seven. Their opponent, the Joliet Generals, had a different plan in mind. The Vikings saw themselves leading the ballgame for one inning. Joliet came right back with 12 unanswered runs and defeated the Vikings 14-3 in seven innings.
The Vikings took the lead after a bases-loaded walk from Nick McAlister (Southern Illinois/Homewood, Ill.) to give the Vikings a 1-0 lead. The General came right back as they scored two runs in the bottom of the second after an RBI triple and a sac fly.
The Vikings entered the top of the third-down 2-1 creating a come from behind scenario. Jake Schroeder (Northern Illinois/Flossmoor, Ill.) doubled to right scoring two runs, having the Vikings take a 3-2 lead. That would be all from the Vikings offense.
The Generals exploded with runs in the bottom of the fourth and fifth scoring five runs in each inning. Generals took an early 12-3 lead putting the undefeated season in jeopardy.
"We lost focus, we didn't have our good stuff," Vikings manager Dave Letourneau said. "Lot of guys who came in today, haven't pitched in a while. But still, as a relief pitcher, you have to be prepared every single day. To get your name called you to have the be ready. We just weren't prepared today, bad body language, this wasn't us and they have to be better."
Southland saw themselves go out one, two, three for two straight innings, setting up the Generals to apply the ten-run rule. The game entered the bottom of the seventh and that would be all from Howie Minas as an RBI double would end the game ultimately handing the Vikings their first loss of the year.
"To be really successful you have to lose, a loss can help you out so much," Vikings manager Dave Letourneau said. "I think a lot of negatives can turn into positives for the individuals. I'm going to talk to the kids who struggled with some things that will help them. We don't want that to hurt them in school, I want to get these kids better so when they get to baseball in the fall they'll be better."
The Vikings look to get back in the win column as their next game will be Saturday, July 11. The matchup will be the Southland Vikings facing the Northwest Indiana Oilmen at Oil City Stadium in Whiting, Ind. The first pitch is scheduled for 6:10 P.M. and you can watch the game on the Northwest Indiana Oilmen Facebook page via Facebook Live. Brandon Vickery alongside Andrew Fish and Thomas Gorski will be on the call.