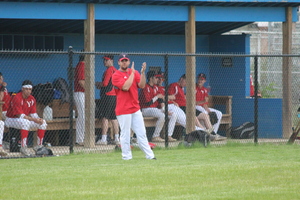 Lansing, Ill. - July 4, 2020 - The anticipated 2020 MCL got underway on Saturday, July 4. The Southland Vikings didn't miss a beat in the season opener, defeating the Crestwood Panthers 13-2 in seven innings.
The MCL debut by Jake Karaba (Lewis / Naperville, Ill.) helped stall any scoring from the Panthers. Karaba would go three innings and eight strikeouts on the day.
Karaba would see himself strike out the side in the bottom of the first as well as the bottom of the third. He would give up zero earned runs and walk no batters on the Crestwood Panthers hitting side.
"Velocity tells a lot and watching him from scrimmage, he's easily our number one and it's simple and everyone can see that," Viking manager Dave Letourneau said. "There was nobody better to start opening day, but I figured this game right here will set him up perfectly for next saturday at Oil City Stadium."
As Karaba impressed on the mound, the Vikings offense propelled throughout the game and put up 13 runs in seven innings.
"Looking at the roster for the last two to three weeks, one thru nine this is the best lineup I've ever had," Viking manager Dave Letourneau said. "One through nine we can do damage, there's guys on the bench that can do damage. We're the deepest we've ever been and it's going to be a treat to watch.
The top of the second and third innings would help the Vikings the most.Totalling eight runs, four hits, and a home run by Justin Rios (North Central / Lemont, Ill.).
Most of the damage would come from Rios totalling seven RBI's, four hits and a homerun. Rios was named 2019 MCL Pitcher of the Year, but also showed why he's a two-way player.
Rios would homer in the second inning and complete the cycle in the top of the fifth.
"Seeing my pitches and expanding my zone, not swinging at balls, All the pitches I hit were in my wheelhouse," Rios said. "That was my first cycle and right out of the box I knew that I needed to get a triple."
Dane Thomas (Wright State / Chicago, Ill.) and Dylan Robertson (Iowa Western / Downers Grove, Ill.) had two hits apiece and totaled three RBI's.
The Vikings (1-0) will face off against the Crestwood Panthers (0-1) for the second straight time on Sunday, July 5. The game will take place at Old Timers Sports Complex in Lansing, Ill. at the time of 12:00 P.M. (Noon). Jack Theil and Jon Zaghloul will have the call on the Crestwood Panthers Broadcasting Network, which is available via Facebook Live.