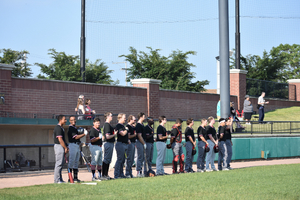 Hammond, Ind. - June 27, 2020 - The MCL season is slated to begin on July 4, but the Vikings will begin their home season campaign on Monday, July 6 as the Southland Vikings host MCL Minutemen. The game will begin at 5 p.m. at Dowling Park in Hammond, Ind.
The final regular-season home game will occur on Wednesday, Aug. 19 as the Vikings welcome the DuPage County Hounds at 5 p.m. The full MCL schedule including Vikings road games will be announced at a later date. The complete home schedule is listed below and on the team website.
All of Southland Vikings home games will be played at Dowling Park, also the home of Purdue Northwest Baseball.
2020 Southland Vikings Home Schedule
Date Home Visitors Location Start Times
Monday, July 6, 2020 Vikings Minutemen Dowling Park 5pm
Tuesday, July 7, 2020 Vikings Hounds Dowling Park 1pm
Wednesday, July 8, 2020 Vikings Oilmen Dowling Park 5pm
Thursday, July 9, 2020 Vikings Panthers Dowling Park 5pm
Monday, July 13, 2020 Vikings Hounds Dowling Park 5pm
Tuesday, July 14, 2020 Vikings Panthers Dowling Park 1pm
Wednesday, July 15, 2020 Vikings Generals Dowling Park 5pm
Thursday, July 16, 2020 Vikings Minutemen Dowling Park 5pm
Monday, July 20, 2020 Vikings Generals Dowling Park 5pm
Tuesday, July 21, 2020 Vikings Oilmen Dowling Park 1pm
Wednesday, July 22, 2020 Vikings Panthers Dowling Park 5pm
Thursday, July 23, 2020 Vikings Generals Dowling Park 5pm
Monday, July 27, 2020 Vikings Generals Dowling Park 5pm
Tuesday, July 28, 2020 Vikings Minutemen Dowling Park 1pm
Wednesday, July 29, 2020 Vikings Hounds Dowling Park 5pm
Monday, August 3, 2020 Vikings Oilmen Dowling Park 5pm
Tuesday, August 4, 2020 Vikings Generals Dowling Park 1pm
Wednesday, August 5, 2020 Vikings Minutemen Dowling Park 5pm
Thursday, August 6, 2020 Vikings Minutemen Dowling Park 5pm
Monday, August 10, 2020 Vikings Oilmen Dowling Park 5pm
Tuesday, August 11, 2020 Vikings Hounds Dowling Park 1pm
Wednesday, August 12, 2020 Vikings Generals Dowling Park 5pm
Thursday, August 13, 2020 Vikings Minutemen Dowling Park 5pm
Monday, August 17, 2020 Vikings Minutemen Dowling Park 5pm
Tuesday, August 18, 2020 Vikings Generals Dowling Park 1pm
Wednesday, August 19, 2020 Vikings Hounds Dowling Park 5pm