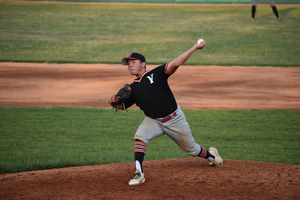 Hammond, Ind. - June 25, 2020 - Dave Letourneau returns for his third season with the Southland Vikings and looks to continue the winning culture the Vikings have had.
At the end of the 2019 season, the Vikings were one game away from the championship. Southland was on the losing side and saw the season come to an end, leaving a chip on their shoulder for the 2020 season.
"Losing two years in a row to them in the first round stings for sure," Letourneau said. "But last year, we knew we were a better team and definitely deserved better, but it just didn't go our way."
With an experienced team, the 2020 season brings hope and confidence to Letourneau and the Vikings.
"We're going into the third year now with a majority of the same kids and we are all ready to go," Letourneau said. "We know we have not got past the first round and we know we were so close last year". "We are jokingly saying that ""third year is the charm, right?"'
The Vikings will be led by 2019 MCL Pitcher of the Year, Justin Rios (North Central / Lemont, Ill.). Dave Letourneau has every bit of confidence in his star pitcher.
"He's just an unbelievable athlete," Letourneau said. "He wins games for his team on the mound, at the plate, and in center field." "If he goes hitless, he probably just threw a 85 pitch complete game. Or he's 3-for-4 and then got the W on the mound. He works so hard and gets better every single day. He's probably the greatest kid I've ever coached."
The pitching staff brings in a new group of new pitchers and new faces to the MCL. Jake Karaba (Lewis / Naperville, Ill.), Ryan Manikowski (Creighton / New Lenox, Ill.), Joseph Tor (South Suburban JC / Lockport, Ill.), Zack Zborowski (Joliet Junior College / Valparaiso, Ind.), Nick Heiden (Webster University / Burbank, Ill.), Jacob Goss (University of Illinois Springfield / Plainfield, Ill.), Justin Supergan (Prairie State College / Valparaiso, Ind.), Jacob Kampf (Heartland Community College / Lockport, Ill.), and Nathan Jendraszkiewicz (Lakeland Community College / Oswego, Ill.) are all new to the MCL.
"I have a pretty good idea who the starters will be but with 47 games in a row, everybody will get a shot to step up and help us win games," Letourneau said. "We are going to need everybody and with no off days it's going to be quite the grind." "Every pitcher on this staff will get a chance to help us win some baseball games. I trust every single arm on the staff and after watching their pens, they're ready to go and I'm looking forward to watching them complete on a daily basis."
The Vikings bring in a very experienced group of players, a group looking to be leaders and help the team win.
"I have had the same group for two years now and they haven't been in a situation to lead," Letourneau said. "This year is different, a lot of new faces. But I've known these kids really well and their commitment to this game is something that's pretty special." "They show up everyday to work and compete and that will rub off on all the known players on this team. We've had a great amount of success in the league for two years and I look forward to them showing these new kids what it takes to win in the MCL."