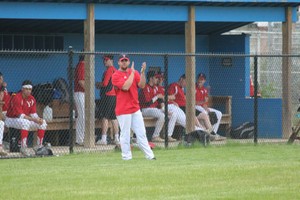 Hammond, Ind. – The Southland Vikings announced the addition of six new position players and nine returning position players to the 2020 roster on Wednesday. In addition, the team tacked on two arms to its pitching staff.
Newcomers
Brett Riegler, C, University of Chicago/Downers Grove, Ill./Downers Grove South
Following his first two seasons at the University of Chicago, Riegler joins the Vikings for the 2020 season. Riegler had a batting average of at least .300 in his first two collegiate seasons while being awarded MWC Academic All-Conference recognition his freshman season.
Luke Napleton, C, Quincy/La Grange, Ill./St. Rita
Before graduating from St. Rita this past spring, Napleton hit .366, with 37 RBIs, and four home runs during his junior year. He was awarded with all-league honors and committed to play for the Quincy Hawks.
Damen Castillo, 1B, Benedictine/Highland, Ind./Highland
Castillo was a starter during his freshman season for Benedictine, where he hit .323 and led the team in home runs. He had 21 RBIs and was one of the premier rookies in the NACC. This followed a high school career where he was First Team All-Conference and the team MVP his senior season.

Brennan Brogni, 2B, Illinois-Springfield/Flagstaff, Ariz./Flagstaff
Appearing for UIS in 33 games, Brogni had a .414 OBP and nine RBIs in 2019. By staying in the Midwest and joining the Vikings this summer, he will look to bring his great eye and ability to reach base to Southland this season.

Chris McDevitt, C/1B, Indiana State/Chicago, Ill./St. Rita
The Vikings bring in McDevitt as someone they can have play first base or catch for the team depending on their needs throughout the season. McDevitt brings a big lefty bat with plenty of power to Southland. The 2020 St. Rita grad will continue his baseball career at Indiana State.

Dane Thomas, OF, Wright State/Chicago, Ill./Marist
Another left-handed option for the Vikings this season will be Dane Thomas. One of the younger players on the team, he will be playing for Wright State in his first collegiate season in 2020-2021. Thomas brings speed in the outfield and on the basepaths.

Rohan Shah, OF/P, Citadel/Burr Ridge, Ill./Lyons Township
A 6-foot-3 two-way player for Lyons Township, Shah joins the Vikings with versatility as well. Shah was primarily used as a right-handed pitcher and has excellent velocity on his fastball coming from a three-quarters arm slot. Shah is a piece that can be used in a variety of ways and situations.

Jake Karaba, RHP, Lewis/Naperville, Ill./Neuqua Valley
Featured in three games of his shortened freshman campaign, Karaba had 12 innings of work. Karaba impressed with 23 strikeouts including 11 in just five innings of work in one outing. Mostly used as a starter, Karaba has worked from the bullpen as well, adding more versatility for the Vikings.
Returning Players
Anthony Rios, C, Lewis/Lemont, Ill./St. Laurence
The team leader in RBIs returns to the Vikings for his second season. Rios hit .333 with 27 RBIs and 11 doubles last season. He also threw out 13 stolen base attempts behind the plate. Rios was in the middle of a career season for Lewis, where he was hitting .389 with a .511 OBP.

Logan Anderson, 1B, South Sub/Frankfort, Ill./Providence
After leading the team in doubles last season with 13, Anderson has chosen to return to the Vikings. Anderson hit .286 with 19 RBIs for Southland last season. He showed off his power with South Suburban, where he hit seven home runs while hitting .276 and driving in 43 runs.
Kellen Quigley, 2B, Webster/Bolingbrook, Ill./Bolingbrook
With 14 RBIs in 21 GP last season, the Vikings return the powerful bat of Kellen Quigley. Quigley hit two home runs last season, which led the Vikings. He also hit .307 and scored 18 runs. Quigley started in 14 games in his sophomore season, hitting .262 and tallying 11 RBIs.
Dashon Moore, SS, Illinois-Springfield/South Holland, Ill./Thornwood
Moore returns to the Vikings after leading the team in hits, RBIs and runs. He also was the team leader in plate appearances with 200 after playing in 42 games. Moore has played for the Northwest Indiana Oilmen and is one of the most experienced players in the league, entering his fourth year in the MCL and third with the Vikings.
PJ Raines, 3B, Sacramento City/Mokena, Ill./St. Rita
After playing in California, Raines comes back to the Midwest to play for the Vikings again. Raines appeared in 15 games for Southland last season. He hit .261 with 7 RBIs and tallied a .404 OBP. Raines heads back to California to play for Sacramento City next season.
Justin Rios, OF/P, North Central/Lemont, Ill./St. Laurence
One of the most versatile players in the league returns for the Vikings this season. Rios had a .481 OBP with 21 RBIs and 41 hits last season. He also led the team in innings pitched while recording a 2.39 ERA and 40 strikeouts, posting a 6-1 record and earning the league's Pitcher of the Year Award. He led North Central in the shortened season in runs, RBIs, and OBP.

Nick McAlister, OF, Southern Illinois/Homewood, Ill./Homewood-Flossmoor
McAlister returns for the Vikings following his first season with Southern Illinois. He is a speed threat on the base paths with a perfect steal percentage (3-for-3) for the Salukis. He played in 11 games in the shortened season and had success for South Suburban College before transferring to SIU. McAlister appeared in two games with the Vikings last season after hitting .275 in 24 games during the 2018 MCL season.

Billy Curtis, OF, North Central/Lockport, Ill./Lockport
A versatile defender that can play infield and outfield, Curtis returns following a .300 average and 27 RBIs last season with the Vikings. Curtis had 70 at-bats during the 2019 summer while playing primarily in the infield. He was one of the most consistent defenders as well as sporting a perfect fielding percentage on 53 chances.

Jake Schroeder, C, Northern Illinois/Flossmoor, Ill./Homewood-Flossmoor
Schroeder is back for a second summer with the Vikings after earning All-MCL honors during his first season in 2019. Schroeder hit .356 with three home runs and a team-high 37 RBIs during his first Southland summer. The right-handed hitting catcher was a two-time All-Southwest Suburban Conference pick at Homewood-Flossmoor before hitting .389 in eight games during his abbreviated freshman season at Northern Illinois this spring.