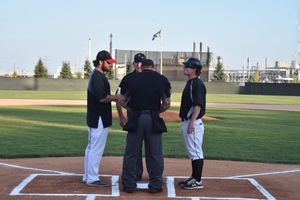 Hammond, Ind. - June 9, 2020 - The Southland Vikings have started the process of releasing their 2020 roster with the addition of 10 pitchers to the team. The club will continue to announce roster news in advance of the Midwest Collegiate League's season-opening game in early July.
Zachary Gould, RHP, UIC / Joliet, Ill. / Joliet Catholic Academy
Zachary Gould graduated from Joliet Catholic Academy, earning himself an honorable mention in the Central Region Preseason All- American class. Gould was ranked No. 71 for pitchers in the state of Illinois and No. 25 for right-handed-pitchers by Perfect Game. He stands in at 6-4 and 195 pounds. Gould is committed to UIC. Perfect Game listed Gould one of the top freshmen in the Horizon League.
Ryan Manikowski, RHP, Creighton / New Lenox, Ill. / Providence Catholic HS
Ryan Manikowski's senior season of high school was cut short due to COVID-19. Manikowski comes with honorable mentions for Preseason All American from Rawlings in 2019 and 2020. Ryan is ranked No. 35 in the Illinois 2020 class according to Prep Baseball Report. Manikowski is considered a top 500 recruit by Perfect Game. Ryan comes in at 6-0 and 175 pounds.
Joseph Tor, RHP, South Suburban JC / Lockport, Ill / Lockport HS
Joseph Tor is a graduate of Lockport HS and is committed to South Suburban College in South Holland, Ill. Tor brings in a number of quality pitches with him to the Vikings - fastball, slider, curveball, and changeup. Tor made four appearances for South Suburban during the shortened 2020 season. In his last appearance on March 8, he pitched three innings while only giving up one run and striking out three. Tor is 6-0 and 215 pounds.
Zack Zborowski, LHP, Joliet Junior College / Valparaiso, Ind. / Valparaiso HS
The left- hander was a utility man for his high school baseball team, the Valparaiso Vikings. Zborowski hit .250 and drove in eight runs along with three doubles during his final prep season. Zborowski pitched 31 innings over seven starts and had a record of 3-4. He only committed one error in his senior campaign with the Vikings. In the shortened collegiate 2020 season, Zborowski appeared in two games and posted an impressive debut with two shutout innings on March 1 against Moraine Valley Community College.
Nick Heiden, RHP, Webster University / Burbank, Ill. / St. Laurence HS
Heiden was a four year letterman in baseball at St. Laurence HS. He is a two-time Second-Team All-Chicago Catholic League honoree as both a junior and senior. Heiden also was the St. Laurence Pitcher of the Year as a senior. In 2019, he made his only appearance of the year and pitched one inning without giving up a run and striking out two. Heiden stands in at 5-11 and 180 pounds.
Jacob Goss, LHP, University of Illinois Springfield / Plainfield, Ill. / Plainfield North HS
Jacob Goss brings a winning culture to the Southland Vikings after being a part of the Plainfield North team that won the 2018 state championship. In his senior season Goss posted a 3-1 record with 38 strikeouts, 32 ⅓ innings pitched and a regional title. Goss was ranked as the No. 10 left-handed pitcher in the state of Illinois by Perfect Game. He stands at 6-0 and 175 pounds.
Justin Supergan, RHP, Prairie State College / Valparaiso, Ind. / Boone Grove HS
Justin Supergan also brings a winning culture to the Southland Vikings.- Supergan was a part of the Boone Grove 2018 state championship team. The right-handed pitcher developed under the wing of Indiana University pitcher Ty Bothwell. Supergan is a 2019 graduate and attends Prairie State College, where he just finished his freshman year.
Anthony Rogers, LHP, Concordia University / Lombard, Ill. / Montini Catholic HS
Anthony Rogers attended Montini Catholic High School and earned a CCL All-Academic Team selection. Rogers has played two full seasons for Concordia and made four appearances his freshman year. The left-hander saw his production go up in 2019, as he made 13 appearances. Rogers held batters to a .214 batting average while striking out 14 batters in his 13 appearances. He is 6-2 and 200 pounds. Rogers returned to the Vikings after pitching for the team in 2018, when he was the runner-up for the MCL Pitcher of the Year Award and started the MCL All-Star Game. The all-league honoree had a 3.06 ERA while working 50 innings over 10 games and compiling a 5-0 record with one save and 52 strikeouts.
Jacob Kampf, RHP/3B, Heartland Community College / Lockport, Ill. / Lockport Township East HS
Jacob Kampf had a terrific 2019 season as he gave up zero earned runs in nine appearances with 22 strikeouts and two saves. He added productivity at the plate to his game as well. Kampf posted a .345 batting average, 13 runs batted in, and five doubles to go along with his impressive pitching. Ranked No. 90 in the Illinois 2020 class, Kampf earned Preseason All American Honorable Mention by Rawlings in 2020. He is also in the top 500 in the nation by Perfect Game.
Nathan Jendraszkiewicz, LHP, Lakeland Community College / Oswego, Ill. / Oswego East HS
Nathan Jendraszkiewicz comes in as one of the youngest players on the Southland Vikings. He has committed to Lakeland Community College to join the baseball team in the spring of 2021. He carries a fastball, curveball, and changeup. The left-handed pitcher comes in at 6-4 and 215 pounds. Jendraszkiewicz looks to bring depth and positive numbers to the Vikings this summer.