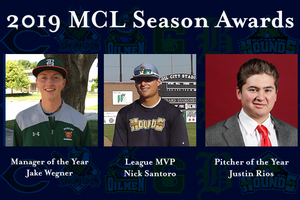 Chicago, Ill. - Aug. 12 - 2019 - With the 2019 MCL season officially in the books, the MCL announced its end of season awards and recognitions. Southland's own Justin Rios was awarded the 2019 Pitcher of the Year award after a dominating season on the mound, in addition to an impressive season at the plate as one of the MCL's star two way players. Rios is the first Viking to win Pitcher of the Year since 2017.
Rios is also joined by teammates Jake Schroeder (Northern Illinois/Flossmoor, Ill.) and Mike Tobin (Concordia Chicago/Hickory Hills, Ill.) on the MCL All-League Team. Schroeder led the team in several offensive categories, batting .356 and slugging 3 homers, while also tying for the league lead in RBI with 37 over 28 games. Tobin was far and away the Vikings best relief pitcher, being used in a number of roles, compiling a 2.17 ERA, four saves, a 4-2 W-L record and 31 strikeouts over 37.1 innings pitched.
From the league office on Justin Rios's award worthy season:
"The league's Pitcher of the Year voting was dominated by Southland's Justin Rios (North Central / Lemont, Ill.), who earned the award by posting a 2.39 ERA and 6-1 record while allowing 15 walks and striking out 40 over nine games, seven starts. He joins Tom Concklin (DuPage County, 2015), Mitch Weis (Bloomington, 2016), Kevin Glynn (Southland, 2017) and Quinn Gudaitis (Bloomington, 2018) as hurlers to win the MCL Pitcher of the Year award since the honor began."
DuPage County's Nick Santoro also received the MCL MVP Award, and Bloomington's Jake Wegner won Manager of the Year.
2019 MCL All-League Team
1B - Will Krushena, Joliet
2B - Austin Biehl, Bloomington
SS - Nick Santoro, DuPage County
3B - Jackson Dvorak, NWI
C - Jake Schroeder, Southland
OF - Peyton Dillingham, Bloomington
OF - Reggie Brock, Jr., Crestwood
OF - Ray Hilbrich, Crestwood
OF - Scott Jones, DuPage County
P - CJ Lewis, Bloomington
P - Eddie Wilkins, Crestwood
P - Ethan Soderna, Bloomington
P/OF - Justin Rios, Southland
P - Mike Tobin, Southland