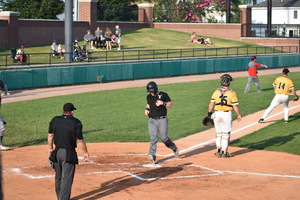 Chicago, Ill – Aug. 6, 2019 – When the Vikings and Oilmen last year in the MCL semifinals, the Oilmen pulled off a clean sweep on the way to winning the 2018 MCL Championship.
The Vikings looked like they were ready to flip that script Tuesday when they defeated the defending champs 9-6 in the first game of a best of three series.
Outstanding pitching from Jake Ruppert (St. Xavier U/Tinley Park, Ill.) and Mike Tobin (Concordia Chicago/Hickory Hills, Ill.) plus a five-run fifth inning helped ensure the Vikings their first postseason win since 2017 in a game where they never trailed.
"When you're given home field you got to take advantage of it. I thought we did a great job coming out swinging the bats early," manager Dave Letourneau said. "Today was a grind. Tomorrow's going to be worse. It's going to be a challenge but were up to it."
Jake Schroeder (NIU/Flossmoor, Ill.) picked up where he left off in the regular season, doubling in the first to put the Vikings in front 2-0. After a scoreless top half of the first, Ruppert would trudge through 4 more scoreless innings of work.
Then in the bottom of the fifth the Vikings blew things wide open. Logan Anderson (South Suburban/Chicago, Ill.) opened the scoring with a Sacrifice fly that scored Steve Insley (Moraine Valley/Chicago, Ill.). One batter later Schroeder came through again for two runs, this time with a hard ground ball that found its way into left field.
Schroeder would then be brought around to score on a Dashon Moore (U of I Springfield/South Holland, Ill.) sac fly, and to finish off the scoring Joe Curci (RPI/Chicago, Ill.) singled in Anthony Rios (Lewis University/Lemont, Ill.) a couple batters later to push the Vikings lead to 7-0.
In the next half inning, Ruppert surrendered the only two runs of his start, and would exit the game after 118 pitches and a still comfortable 5 run cushion in line for the win.
The Vikings got one run back thanks to an Anderson single that put the lead at 8-2. The Vikings then turned to Victor Aguilar (North Central College/Blue Island, Ill.) another lefty to try and bridge the gap to Tobin. Aguilar recorded just one out before surrendering a three-run homer to make it 8-5. Letourneau wasted no time in going to Tobin, who would be tasked with recording the final eight outs of the game.
"I wanted to get Vic the seventh. They (the Oilmen) are pretty left-handed. I wanted Vic to continue with the lefty, but he didn't have it," Letourneau said. "It set up for Toby. He just pounded the zone. I gave him six days off and he looked like it. He was crisp with the fastball, crisp with his off-speed."
The Oilmen grabbed one more run in the eighth to make it an 8-6 game, but the Vikings responded with a tally of their own. Kellen Quigley (Webster University/Bolingbrook, Ill.) cashed in an RBI on his third hit of the game to put the Vikings back up by three. Tobin then struck out two batters to work a scoreless ninth to earn the eight out save.
The win put the Vikings just one more win away from playing for their fourth MCL Championship title. They'll have a chance to clinch a championship berth Wednesday in Whiting by sweeping the Oilmen. By no means will it be an easy task
"Our guys are going to be ready. Their guys are going to be ready. It's one of those game where you play so hard and work hard to get to this moment. I think we'll be ready for it," Letourneau said.
Wednesday's potential clincher will begin at 7:10 p.m. from Oil City Stadium in Whiting. If the Oilmen emerge victorious, a decisive Game 3 will be played at St. Rita on Thursday. If the Vikings win, they will be on to the championship, where they will face either the Bloomington Bobcats or DuPage County Hounds.
Those looking to view Wednesday's game can find it on the Northwest Indiana Oilmen Broadcast Network, where Brandon Vickrey and Will Trubshaw will have the call.